Taking action in support of Amnesty's Write For Rights campaign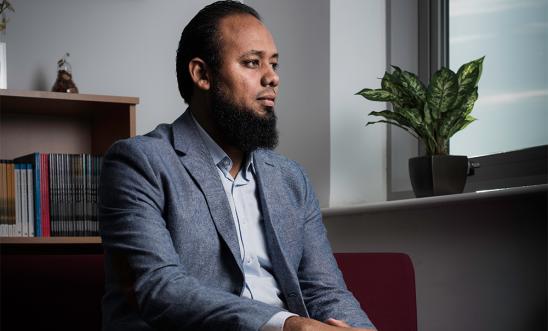 Mohamed Baker, director of Adalah Center for Rights and Freedoms © University of York/Alex Holland
Written by Diana Johnson MP - Chair of the Parliamentary Human Rights Group.
I am pleased to be writing this blog in my role as Chair of the All-Party Parliamentary Human Rights Group (PHRG) to mark Amnesty International's annual Write for Rights campaign and to pay tribute and signal our unwavering support for those working on the human rights frontline. To those who are committed to the promotion and protection of fundamental human rights within their communities and countries, often in very challenging circumstances, and at times at great personal risk to themselves and their loved ones.
 
And while many of us have had to endure hardship and loss during the COVID-19 pandemic, it has often been much worse for those living in places where basic rights can never be taken for granted.
The pandemic in some countries has profoundly exacerbated existing vulnerabilities. For example, people living in poverty, indigenous peoples, victims of domestic violence, and prisoners. Those already marginalised and disadvantaged have had the added burden of possible illness or death from Covid, increased isolation, loss of their means of survival and/or callous mistreatment by state officials for allegedly falling foul of Covid restrictions.
The pandemic has also given authoritarian leaders yet another pretext to silence journalists, close down community and civil society-led initiatives, and detain peaceful critics and opposition.   
 
On that note, I would like to briefly highlight the case of Mohamed Baker in Egypt. Mohamed Baker is a courageous and selfless human rights lawyer defending those who had been unjustly imprisoned.  Some of us had the privilege of meeting him in Parliament when he was in the UK on a fellowship at the University of York.
Then one day, while attending the interrogation of activist and blogger Alaa Abdel Fattah, for whom he served as legal counsel, Mohamed was himself arrested and jailed - on baseless terrorism and national security charges. That was over two years ago.
He has since been held in a cramped cell in the notorious Tora Maximum Security 2 Prison, without a bed or mattress, access to clean water, outdoor exercise, books, or newspapers.  During the height of the pandemic, he was not able to see family members for six months.  Since visits resumed, he has been restricted to one 20-minute visit from a single family member each month.
Sadly, there are tens of thousands like Mohamed being arbitrarily detained in Egypt right now – who are being punished simply for trying to carry out their work, to exercise their basic rights, or to speak out against oppression and injustice.
The PHRG has been helping to raise the profile of Mohamed's case and the situation in Egypt more generally.
I believe it is important for Mohamed and his family, and others like them, to know that we stand in solidarity with them and I hope you feel as inspired as I do to take action on their behalf.
About Amnesty UK Blogs
Our blogs are written by Amnesty International staff, volunteers and other interested individuals, to encourage debate around human rights issues. They do not necessarily represent the views of Amnesty International.
View latest posts