Showing support to LGBTI rights organisations in Ukraine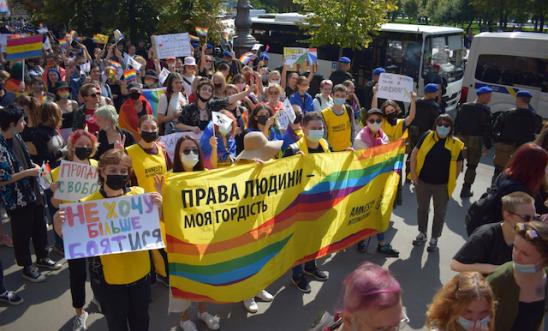 Kharkiv Pride 2021 © Amnesty International Ukraine
Written by Crispin Blunt MP.
As Chair of the All-Party Parliamentary Group on Global LGBTI rights, I often speak to and hear from LGBTI rights activists from around the world – they are usually doing incredibly important work to promote equality and change attitudes, but they often face terrible abuse and harassment as a result. LGBTI rights defenders are often targeted both because of the work they do and because of their LGBTI identity.
For example, from Amnesty's 2021 Write For Rights campaign:
"Sphere is an LGBTI and women's rights organisation in Ukraine. Founded in 2006 by activists Anna and Vira, it is one of the oldest organisations of its kind in the country, providing a safe space for women and LGBTI people in Kharkiv (Ukraine's second-largest city).
In 2019, Sphere organised Kharkiv's first ever Pride. Despite threats and intimidation, the event was a huge success attended by up to 3,000 people. But instead of protecting marchers from violence, the police joined in with hurling homophobic abuse at them. Anna and Vira say that police inaction in the face of constant attacks has left Sphere and its supporters in a permanent state of fear."
Discrimination and hate crimes against LGBTI people and activists will not end if there is impunity, so governments must hold perpetrators accountable. That is why I've taken action as part of Amnesty International's annual Write for Rights Campaign, calling for the Ukrainian authorities to take action against Sphere's attacker.
Human rights defenders around the world, particularly those targeted both because of their work and their identity like Sphere, need to know that the international community supports them. And their attackers need to know the international community is watching. That's why I've taken action, and I hope others will too.
About Amnesty UK Blogs
Our blogs are written by Amnesty International staff, volunteers and other interested individuals, to encourage debate around human rights issues. They do not necessarily represent the views of Amnesty International.
View latest posts