Protect LGBTI campaigners from attack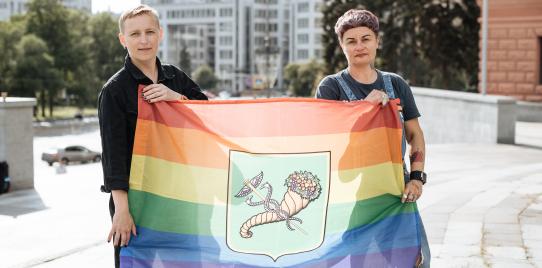 "I want our attackers to be held accountable in accordance with the law."
Read more
Sphere is an LGBTI and women's rights organisation in Ukraine. Founded in 2006 by activists Anna and Vira, it is one of the oldest organisations of its kind in the country, providing a safe space for women and LGBTI people in Kharkiv (Ukraine's second largest city). 
The number of hate crimes in Ukraine is on the rise – an issue that the government is failing to tackle. As more and more anti-LGBTI groups have sprung up across the country, Sphere has been the target of dozens of discriminatory attacks.  
These groups have set upon Sphere's supporters and its premises – urinating on walls, spreading faeces on doorknobs, breaking windows and chanting homophobic slogans. Anna and Vira report the attacks to the police, but they don't do anything to stop them or hold anyone accountable.  
In 2019, Sphere organised Kharkiv's first ever Pride. Despite threats and intimidation, the event was a huge success attended by up to 3,000 people. But instead of protecting marchers from violence, the police joined in with hurling homophobic abuse at them. Anna and Vira say that police inaction in the face of constant attacks has left Sphere and its supporters in a permanent state of fear.
The freedom to be yourself is a human right. Stand with Anna, Vira and the entire LGBTI community. Tell Ukraine to bring Sphere's attackers to justice.