Running or swimming for your life
I don't know about you sports fans/political geeks but the Olympics and Paralympics feel like welcome break from a topsy-turvy rollercoaster of a political summer. A breather from Brexit and the ensuing chaos and political bickering that has followed.
Last night it was a welcome relief when three quarters of the way through yet another programme on Brexit analysis, the women's rugby sevens reminder flashed up on my TV. Goodbye Nigel Farage and hello to what looked like regular rugby on Red Bull (apologies to true sports fans, I am still new to all this).
Whilst we settle down (and stay up late) to watch the incredible international spectacle that is the Olympic Games we must also spare a thought for the context in which it sits. With much of the media in the run up to the Games focused on the "Russian doping scandal", it feels like politics is never far behind when it comes to these great sporting events.
The spotlight on the world's greatest athletes can also be used to shine a light on human rights. Take Rio de Janeiro. There is a dark problem in the city – and across Brazil. The police force, supposed to be guaranteeing safety for citizens, is shooting to kill. The victims are mostly young people, and the majority of them are black. So whilst you are watching the Games why not multitask? You could always send a message to Brazilian's Justice Minister demanding that the police are held to account.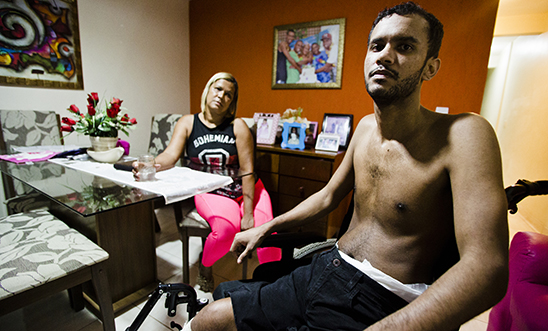 Image: Vitor Santiago is a young man shot by the Army during an occupation at the Favela da Maré before the 2014 World Cup. His mother, Irone Santiago, is fighting for justice along with her son and became a human rights activist. AF Rodrigues
The Games themselves, well they can make you smile, gasp and cry in one fell swoop. Well they certainly have for me since they all kicked off.
What people may have missed, as did I until my social media caught up with me this morning, was the emotional climax of said women's rugby sevens… no I'm not talking about GB's unexpected loss to Canada but the Olympics getting its first same-sex marriage proposal; with Marjorie Enya asking Brazil rugby player – and partner of two years – Isadora Cerullo to marry her. Not only is this just too sweet (check out the video) but is also really key for LGBT visibility at the games. This is especially important given reports of homophobic chants against LGBT football players at the Games.
Olympians have always been heroic. But for me, the real winners so far (excuse the pun) have been the Team Refugees. For the first time in the history of the Olympics, 10 refugees are competing without a national team. We have already seen one of their members Yusra Mardini win her 100m butterfly heat. Not only is she one awesome swimmer, but she and her sister helped save the lives of 20 people after jumping off their sinking dinghy into the Aegean Sea and pushing their boat to land. Now she is a true hero.
So as you kick back and enjoy supporting Team GB (or whatever your nation of choice) please do rally behind the Team Refugees. But also please share a thought for those who are forced to make a similar perilous journey.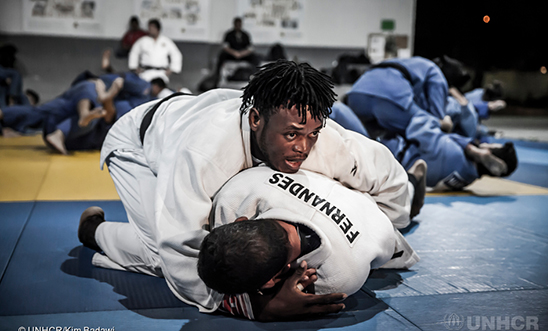 Image: Member of Team Refugees, Popole Misenga, training for the 2016 Olympic Games. UNHCR
Samia Yusuf Omar, who famously won the heart of the crowds when running for Somalia in 2008, will not be taking part this year. The playing of sports was banned in her country by Al Shabaab. Athletes were also pressured to join their ranks. Having been forced to relocate to a camp for displaced persons Omar left Somalia. In April 2012, she was one of too many who got on a makeshift overcrowded boat trying to cross the Mediterranean Sea. Like many others, the unseaworthy boat went adrift and as they were rescued in the ensuing chaos some people were knocked overboard.
So Omar won't be taking part this year. She won't be taking part because she drowned. She was only 21 years old.
This is just beyond a tragedy. And there is more we can all do to change this; to urge our governments to create safe and legal routes for refugees. No one seeking safety should have to risk death just to cross a border. Refugees fled bombs and persecution believing that other countries would respect their human rights, and offer them sanctuary. We cannot prove them wrong. We know that public pressure can make a difference. So please join us on 17 September in London. Last year, in the week of the demonstration, the UK government agreed to resettle 20,000 Syrian refugees by 2020. But this is too few and too slow, and they should be doing more.
So save the date to help refugees on September 17: Join us and make your voice heard!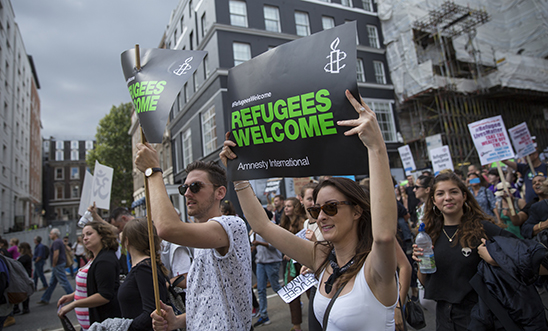 Image: Thousands of people march through the streets of central London in support of refugees on 12 September, 2015. 
About Amnesty UK Blogs
Our blogs are written by Amnesty International staff, volunteers and other interested individuals, to encourage debate around human rights issues. They do not necessarily represent the views of Amnesty International.
View latest posts