Amnesty International's Parliamentary Reception for Human Rights Day
Yesterday, we were once again thrilled to be able to mark Human Rights Day with our annual Parliamentary Reception in the Speaker's House of Westminster Palaces. Ministers, MPs and Peers joined Amnesty activists, staff, volunteers and special guests in participating in our Write for Rights campaign, writing messages of support, hope and welcome for individuals facing human rights abuse around the world.
The Parliamentary Reception is a fantastic reminder of the shared commitment across Parliament to defend human rights, and to protect people, across the globe. As Baroness Anelay (pictured below), Foreign Office and Commonwealth Minister, said in her keynote speech to the Reception the work of Amnesty International is important in "fighting not only for principles but for people." And in a significant step in demonstrating this point, the Minister urged the Chinese authorities to release Ilham Tohti, an imprisoned human rights defender of his persecuted Islam-practicing Chinese minority the Uighur, without delay.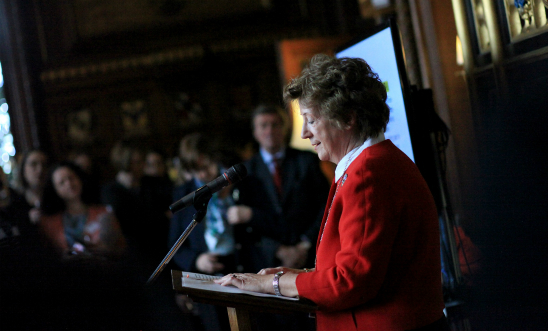 We hugely appreciate our continued working relationship with the All Party Parliamentary Group on Human Rights, who co-run this Parliamentary Reception with AIUK. The Chair, Ann Clwyd MP (pictured at top), not only gave a rousing speech at the event but has also tabled an adjournment debate for Human Rights Day on 13th December, demonstrating her determination to keep human rights on the Parliamentary agenda.
Around 50 Parliamentarians attended and took action at our event. These included taking photos calling for the release of Ilham Tohti, which Vice Chair of the APPG on China Madeleine Moon MP wrote more about online.  Attendees took photos for the release of Shawkan, the Egyptian photojournalist arrested for covering a sit in in 2013 and who now potentially faces the death penalty. Sue Turton, a former al-Jeezera journalist who was sentenced in absentia by the Egyptian authorities, spoke powerfully on the role journalism plays in exposing human rights abuses and why that makes them so often the target of arrest and harassment by authorities who want to their hide their illegal practices. 
Parliamentarians chose their favourite place in the UK to add to a map welcoming refugees to our country and inviting them to experience the many fantastic sights and locations of our country. AIUK also set up a wish tree for people living with albinism in Malawi who are at risk of being targeted for mutilation or death in order to use their body parts in superstitious rituals.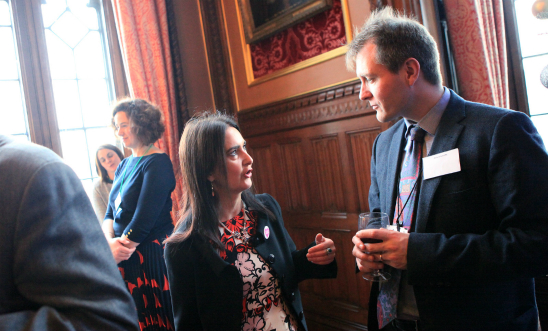 Attendees were able to hear the courageous words of Richard Ratcliffe (pictured above), the husband of Nazanin Zaghari-Ratcliffe who was arrested in Iran earlier this year on erroneous charges with no access to proper legal support. Their young daughter, Gabrielle, is also having to remain in Iran with her grandparents as her and her mother's passports have been confiscated. Parliamentarians and attendees wrote messages of support to Nazanin, and we hope that these will give her strength over the coming holiday season. 
The effect these actions should never be underestimated. They are best summed up by Albert Woodfox who described what it meant for him to receive messages from our Write for Rights actions last year, including at the Parliamentary event 2015: "I can't emphasise enough how important getting letters from people around the world was. It gave me strength. It gave me courage. It made me more determined. But more than all that, it gave me a sense of self-worth."
Not only is the personal impact of these messages of solidarity vital, but action also leads to real change for the people Parliamentarians campaign for. Of the cases Parliamentarians acted on in 2015, three people were released this year. Yecenia Armenta from Mexico was released in June, Phyoe Phyoe Aung from Burma was freed in April, and of course Albert Woodfox himself, who spent 44 years in solitary confinement in Louisiana, was freed on 19 February 2016, his 69th birthday.
Finally, it was with continuing great sorrow that we paid our respects to Jo Cox MP, who was so cruelly killed in a politically motivated murder this year. We know that as those who spread hatred, who thrive on division and who call for oppression and violence gain traction in the world, a fierce human rights champion like Jo Cox would push us to work harder and harder to defend those who fall victim to such abuses. Looking out across a room of activists of all ages and backgrounds, and of Parliamentarians from across the political spectrum, Jo's words rang true that in our fight for human rights we are more united and have far more in common with other than things that divide us. 
About Amnesty UK Blogs
Our blogs are written by Amnesty International staff, volunteers and other interested individuals, to encourage debate around human rights issues. They do not necessarily represent the views of Amnesty International.
View latest posts