Writing in solidarity with Albert Woodfox
Back in June a US Judge ruled that Albert Woodfox should be immediately released from prison, after his conviction of killing a prison guard was overturned for a third time. Albert, now 68, has spent the last four decades in solitary confinement.
The judge also ruled that the State of Louisiana could not try Albert for the same offence, yet again. We all dared to hope that Albert would finally get justice.
But sadly this was not the case. Instead, State representatives have done everything in their power to stop Albert walking free.
Not only are they fighting the judge's ruling, they have increased Albert's solitary confinement – if such a thing was possible.
Albert has been moved to a solitary cell with a shower in it - meaning that he no longer leaves his cell even to wash. That removes one of Albert's few moments outside of his 6' by 9' prison, even for a few minutes.
The door to his cell is solid metal and no general prison noise can get through. With no one to speak to, and no outside noise, life for Albert is now almost silent, cramped, and confined to an area smaller than a parking space.
5,000 messages for Albert
We asked you to help let Albert know that the world is aware of his case and that we were all thinking of him during this difficult time – and the response was overwhelming - we received over 5,500 messages from around the world for Albert!
Some of you wrote words of encouragement to Albert, others shared your own life experiences, or information on current world events. The time, effort and thought you all put into your letters will mean the world to Albert
The prison rules state that Albert cannot receive more than 20 pages of printed paper at one time. So we printed each of your letters, counted them into piles of 20 and posted them off.
Between mid-June and the end of August we sent over 270 parcels of letters to the Louisiana prison!
We also made copies of each letter and have bound these into 18 books for Albert to keep. Last weekend I presented the books to Albert's long-time friend, campaigner and Angola 3 member Robert King, whilst he was in London.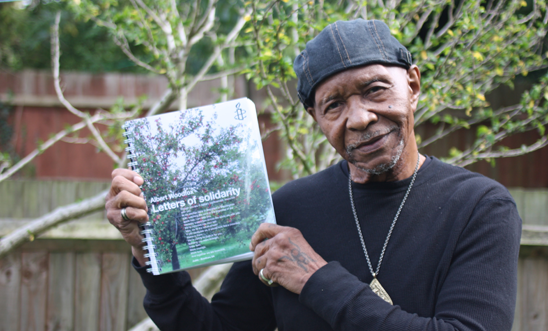 Robert said that he felt that each and every one of your letters would mean a great deal to Albert – and he was overwhelmed by the number of you who wrote to him.
With difficulty we picked one letter from those we received to put on front cover of the books, by Judith from Manningtree in Essex:
Be encouraged, dear Albert.

Though you are in solitary confinement, know I'm with you.
At my kitchen table in Brantham in Manningtree (UK) watching the wind in the branches of our apple tree, I am with you.
Amnesty supporters across the world are with you.
We're crowded into your cell.
Man, we fill the whole prison!
If you could see us, it would look like a crowded metro in there.
We're calling for justice for you,
Sending you more strength,
More faith,
More courage,
More love.
And together we are invincible.
What happens next – the latest from Albert's hearing
On 2 September, the State of Louisiana's appeal against Albert's release started.
Albert wasn't in court for the hearing, although many supporters, including Robert King, were.  The three judges heard from both the State's attorneys and Albert's.
The State's attorney argued that, despite hurdles, the state has "a strong and legitimate interest" in prosecuting Albert for a third time. They assured the judges that Albert would receive a fair trial.
That seems unlikely, especially as appeals judges have overturned his conviction three times. No physical evidence links Albert to the crime. The main eyewitness from Albert's first trial was rewarded for his testimony by the authorities, including a pardon for his crime. Other eyewitnesses have retracted their statements, and evidence that might have proved Albert's evidence has been lost.
Albert's defence argued he should be released from custody because this this a 'once-in-a-generation type case, where there should not be further proceedings.' The defence focused on Albert's age and poor health and his decades in solitary confinement. Decades of confinement despite his conviction being overturned again and again.
The three-judge panel who heard the evidence didn't say when they might rule. The earliest is likely to be October, but it could take them until early next year.
Whatever the outcome, we'll continue to campaign for Albert to be removed from solitary confinement and for him to be granted the unconditional release he deserves – and when we know what we need to do next, we'll be in touch!
About Amnesty UK Blogs
Our blogs are written by Amnesty International staff, volunteers and other interested individuals, to encourage debate around human rights issues. They do not necessarily represent the views of Amnesty International.
View latest posts