Let's not forget the stories of the disappeared in Sri Lanka - Prageeth Eknaligoda's wife visits Amnesty
Last week I heard first-hand from one of the 1000s of people whose families have suffered human rights abuse in Sri Lanka. It's an opportunity that the Sri Lankan authorities did their utmost to deny David Cameron and other leaders meeting in Colombo.
During last week's Commonwealth Heads of Government meeting, activists and families of the disappeared travelled from their homes in the north of Sri Lanka, hoping to meet international journalist and world leaders, determined to make their voices heard by telling their stories.
They were prevented from doing so, however, by a Sri Lankan government which wants to stop these stories from being told. The military stopped busloads of families of the disappeared from travelling to Colombo and sent them back to their home districts.
Sri Lanka's civil war might officially be over, but people are still being prevented from speaking out and enforced disappearances are very common in the country. Activists and political opposition are vanishing without a trace, in what have become known as 'white van disappearances'. Suspects are taken away in white vans without number plates. They are often never seen again. In Sri Lanka these vans have become a symbol of government oppression and human rights abuse.
Pregeeth Eknaligoda - The journalist who disappeared
One of the people that this happened to is Pregeeth Eknaligoda, a prominent journalist, cartoonist and critic of the Sri Lankan regime. He went missing after leaving his workplace on 24 January 2010.  His family have not heard from him since.
The alleged abduction took place two days before Sri Lanka's presidential elections, for which Prageeth worked on a website that supported the opposition candidate. Local residents reported seeing a white van without number plates close to his house around this time.
Since Prageeth's disappearance, his wife Sandya has tirelessly campaigned to find out what happened to her husband. Her searching has led her to the Sri Lankan government, the UN and the Human Rights Commission in Geneva to try to find out the truth. This is something that has sometimes resulted in her and her family being harassed as a result.
We have long stood with Sandya is her struggle to find out what happened to her husband and to hold those responsible to account. Last week I had the honour of meeting Sandya when she visited us here in the office. One of her aims whilst in the UK was to meet with MPs and civil servants ahead of the commonwealth summit to ensure that Prageeth's story, and others just like it, are not forgotten during the meetings. 
During Sandya's visit she told us how her husband's disappearance changed the lives of her and their two sons.
'I never wanted to be an activist, but that is what I have become now. Prageeth's disappearance changed my life and after that I became a full time campaigner looking for him.  Today I consider myself an activist not just for Prageeth, but for all the disappeared.

'Looking for Prageeth and for justice for him has become my religion. As a whole family, we are the campaign to find Prageeth. My sons are the force behind my struggle.

'Sri Lanka needs a government that will treat all people as equals; there must be no violence against minorities. We don't want a dictatorship anymore. We want a place where journalists can work freely.'
The importance of solidarity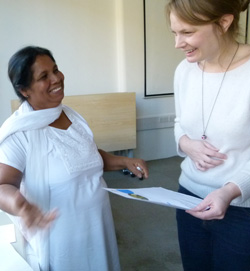 During Sandya's visit I had the opportunity to show her some of the hundreds of messages, cards, letters and pictures that we've received from supporters and activists all over the UK. We read through some of the cards and letters with messages of support, hope, solidarity and encouragement that people sent her and her family.
Sandya was clearly moved by all the messages that come from people of all ages, and as young as 11 years old. She took them all with her, promising to proudly display them at home. 
From meeting with Sandya and others in her situation I have seen why it's so important for them to have their stories heard. I find her strength and courage extraordinary and to hear  Sandya speak makes a real personal impact. It makes you want you to do something. It's a shame that all world leaders attending the Commonwealth summit weren't given the same opportunity.
You can also send a message of solidarity to Sandya and her family as part of this year's Write for Rights Campaign, to show them that their voices have been heard and that they are not alone. Download the casesheet below to see how.
About Amnesty UK Blogs
Our blogs are written by Amnesty International staff, volunteers and other interested individuals, to encourage debate around human rights issues. They do not necessarily represent the views of Amnesty International.
View latest posts