President of Malawi visiting the Scottish Parliament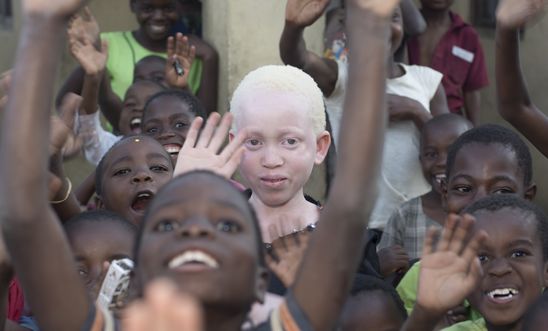 A picture of Annie Alfred at school - taken in Malawi. This photo is part of the Malawi campaign to stop the killings of people with albinism in Malawi. © Amnesty International/Lawilink
Scotland and Malawi have a special relationship that dates back hundreds of years to the explorer David Livingston.  Thanks to these connections the two countries have well established social, cultural and economic ties. From Scotland we often send medics on exchanges to build on, for example, the mental health practices in Malawi – to share learning and best practice developed in Scotland.  Scotland has also sent officers from Police Scotland to help train the police in Malawi. 
Our First Minister has talked previously of wanting to build on the strength of this relationship.  This week will offer a great opportunity to do so, when the President of the Republic of Malawi, Professor Peter Mutharika visits Scotland.  Amongst other engagements during the trip, the President will address MSPs at Holyrood, and visit Glasgow University.  To coincide with the trip, the Scottish Government has announced they will be investing £100,000 over the next couple of years in the College of Medicine in Malawi.
However, with this special relationship, Scotland has a great opportunity to push for change in Malawi that could have a huge impact on people in Malawi.  Same-sex sexual relations between consenting adults are still illegal, which puts the human rights of many citizens at risk.  The spokesperson of the People's Party, Kenneth Msonda publicly said "gays are worse than dogs and must be killed".  With this level of public discourse, it is little wonder that LGBTI people in Malawi continue to live in fear of harassment and attack.
Last week we saw the UK government using its position and special relationships to exert positive influence that will hopefully impact on LGBTI people when the Prime Minister expressed deep regret for the legacy the UK has left in Commonwealth countries.  There was also an announcement of a £5.6 million programme to advance LGBT and gender equality in the Commonwealth.  This is a welcome step and good example of how the UK can hopefully help drive change that will potentially have a massive impact on the daily lives of many LGBTI people.
The Scottish Government doesn't often shy away from it's human rights obligations when dealing with other countries, for example when the First Minister recently visited China, Amnesty briefed her ahead of the trip and she spoke of wanting to raise human rights and recognised that Scotland can have an impact.  We hope that that the Government and MSPs of all parties will use any opportunity they have to lobby President Mutharika to affect change in Malawi.
Of course, it's not just LGBTI people whose human rights are at risk.  Last year we highlighted the plight of people with albinism in Malawi who are routinely hunted and killed as their bones, hair and teeth are sold and used for witchcraft.  It is commonly thought that they can be used as cures for diseases.  We brought Bonface Massah to Scotland last year to highlight what was happening.  Bonface is Director of the Association of Persons with Albinism in Malawi.  During his trip to Scotland, Bonface visited the Scottish Parliament to meet MSPs and called for them to take action and raise awareness wherever possible.  You can read Bonface's blog about his trip here.  When in Scotland, Bonface called for us to 'continue putting pressure on [the Malawian] government.  The challenge is we need governments in Africa, including our government in Malawi, to show leadership and to demonstrate that they want to end attacks against persons with albinism. But it's also important for our governments to appreciate and take a lead in promoting the aspirations of persons with albinism.'
Amnesty still has concerns regarding violence against women, with Malawian women marching recently to highlight the number of murders of women only to be arrested for amongst other things "insulting the modesty of a women".
So, whilst we welcome the continuation of the special relationship between Malawi and Scotland, we also acknowledge that there is great opportunity for Scotland's political leaders to address the human rights violations that occur in Malawi and for these to be raised with President Mutharika as a matter of urgency.
About Amnesty UK Blogs
Our blogs are written by Amnesty International staff, volunteers and other interested individuals, to encourage debate around human rights issues. They do not necessarily represent the views of Amnesty International.
View latest posts