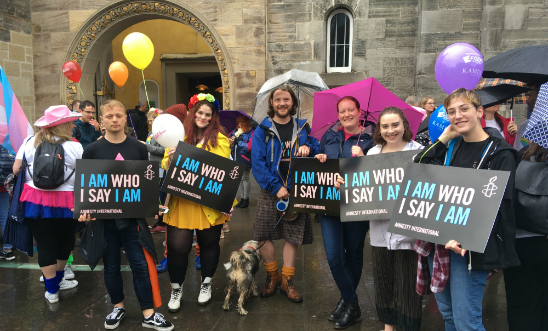 Amnesty International Scotland at Edinburgh's Pride March 2018 © Emma Jevons
Guest blog by Amnesty International Scotland volunteer Emma Jevons
Edinburgh held its annual 2018 Pride March on Saturday, and as a new volunteer with Amnesty International Scotland, I was beyond excited to get involved. Historically volunteers in Scotland have organised a Pride March every year (regardless of the weather!) since 1995. Most Pride events occur in June, in honour of the 1969 Stonewall riots in New York City. This year, at Amnesty International, we put trans rights at the focus of our Pride work, calling for trans people to have the same rights as everyone else. Our two main cases were Sakris Kupila and Alejandra (but more on that later!).
I made my way to Queen's Gallery on Saturday morning, covered in rainbow glitter, and joined the vibrant mass of colour waiting outside. The atmosphere was amazing, with other local activist groups out campaigning, such as Equality Network, Scottish Trans and LGBTI Scotland. Supporters, volunteers young and old, and a few furry friends joined the crowd under a blanket of rainbow umbrellas. We were led by a dynamic samba band and dancers as we started to march. Despite the rain, we paraded along The Royal Mile, pausing at Parliament Square for speeches given by different group members, before continuing along George IV Bridge to Bristo Square. Amongst the chants, music and incredible costumes, there was an overwhelming sense of unity and solidarity as the crowd lit up the streets of Edinburgh. The support for Pride and the LGBTI community across the world is growing in popularity and recognition, clear by the sheer number of people who joined on us on Saturday, but there is still a lot of work to do.
It is a very important time for trans rights, particularly in Scotland, due to the opportunity we had to review the Scotland Gender Recognition Act. A law governing how trans people can get their gender legally recognised on their birth certificate. The current process is too lengthy, intrusive and does not account for non-binary people or under 18s. See our full review of the Gender Recognition Act.
In light of this, we are drawing attention to the cases of Sakris Kupila and Alejandra.
Sakris Kupila is a 21-year-old transgender activist and medical student from Finland, campaigning to have his gender legally recognised without undergoing the humiliating process of sterilisation and psychiatric diagnosis required by Finnish Law in the 'Trans Act'. This completely violates the rights of transgender people, and so, our campaign supports Sakris' aim to change the process to a system of self-determination. One that does not discriminate based on age, medical or financial status. See how you can help.
Alejandra is a 43-year-old trans woman, human rights defender and beautician from El Salvador. Alejandra was forced to flee her home country following repeated attacks and sexual abuse by a transnational gang and military officials due to her transgender identity. In November 2017 she requested asylum at the US – Mexico Border and is currently being held by ICE at the privately operated Cibola County Correctional Centre in New Mexico, where the essential healthcare is inadequate and unresponsive. Parole should be granted for humanitarian reasons, however in April, Alejandra was denied parole by ICE with no justification to her lawyer. We are campaigning to release Alejandra while she awaits the decision on her asylum claim. See how you can help.
About Amnesty UK Blogs
Our blogs are written by Amnesty International staff, volunteers and other interested individuals, to encourage debate around human rights issues. They do not necessarily represent the views of Amnesty International.
View latest posts