Liu Xia: Chinese poet under house arrest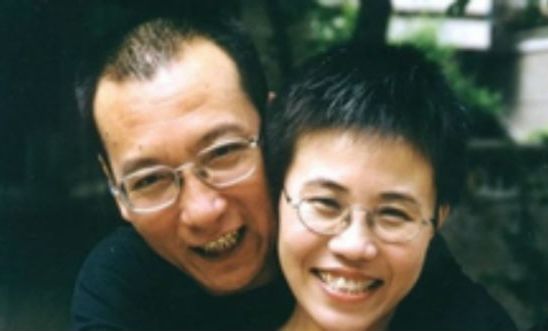 Liu Xia and her late husband Liu Xiabo © Amnesty International
This is a guest post from Jane Archer, Board Member at Scottish PEN
On Day of the Imprisoned Writer last year (Nov 15), Scottish PEN and Amnesty Scotland held an event in the Scottish Parliament to hear the voices of imprisoned writers and to highlight their situation. Liu Xia was one of those writers. We invited MSPs and members of the public to hear and celebrate her written word and to speak out against her house arrest which has now gone on for more than eight years even though she has never been charged or convicted of any crime.
Liu Xia's terrible physical and mental ill health pays testament to the inhumane and torturous treatment of being under constant surveillance and enforced isolation. She is suffering from clinical depression and has a heart condition for which she is in dire need of specialist treatment.
Scottish PEN and Amnesty stand in solidarity with PEN America, which is shining a spotlight on the breach of Liu Xia's human rights and by requesting that the Chinese government release her from house arrest, permit her to realise her right to free expression (with friends and relatives as well as writing) and allow her the freedom to travel. We are calling for all restrictions on movement and communications to be removed. In her name, writers including Paul Auster, J M Coetzee, Siri Hustvedt, Alice Sebold and Ma Jian have all read her work to celebrate her as an artist and to show that no act of censorship can silence her.
Liu Xia is often mentioned in relation to her (late) husband Liu Xiaobo, the only person to receive a Nobel Peace Prize while in prison. Liu Xiaobo was granted medical parole two weeks before he died. Liu Xia's health has worsened since his death and she has now said that she is 'ready to die' as that 'would be an end to it all'.
By creating international pressure from state bodies and human rights organisations, we work towards a day when Liu Xia can have the freedom to share her thoughts and views with whomever she so chooses. In 2017, this was not enough for Liu Xiaobo who died after seven years in custody; however we can only keep speaking out, and hope that perhaps, one day, Liu Xia will be free.
Lui Xia is a founding member of Independent Chinese PEN centre. When events are held for imprisoned writers, PEN centres around the world create a space for an empty chair, often putting the name or an image of the imprisoned writer on the chair. This acts as a reminder of the imprisoned writer's absence, and by doing so, makes them present, makes them seen and heard. For this reason, I've chosen one of Liu Xia's poems entitled Empty Chairs.
Empty Chairs by Liu Xia: Translated by Jennifer Stern and Ming Di
 
Empty empty empty
so many empty chairs
everywhere. They look
charming in van Gogh's paintings.
I quietly sit on them
and try to rock
but they don't move —
they are frozen
by what's breathing inside them.
Van Gogh waves his paintbrush —
leave leave leave
there's no funeral tonight.
He looks straight through me,
and I sit down
in the flames of   his sunflower
like a piece of clay to be fired.
(1999)
《空椅子》刘霞
空椅子空椅子
如此之多的空椅子
在世界各处
梵高画中的空椅子格外诱人
我悄然坐上去
试图摇晃一下双腿
椅子里渗出的气息
冻僵了它们
一动也不能动
梵高挥舞着手中的画笔
离开离开离开
今夜没有葬礼
梵高直直逼视我的目光
让我垂下眼帘
如一只有待烧制的陶器
坐在向日葵的烈焰之中
About Amnesty UK Blogs
Our blogs are written by Amnesty International staff, volunteers and other interested individuals, to encourage debate around human rights issues. They do not necessarily represent the views of Amnesty International.
View latest posts