Inspirational Women's Day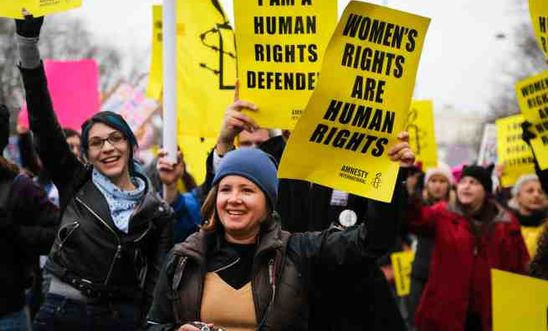 Amnesty International's theme for International Women's Day this year is Human Rights Defenders. We are focussing on those women who often put themselves in great danger in order to further the rights of women and their communities.
There are so many incredible women campaigning for human rights around the world, but this year I want to focus on two who are particularly important for Amnesty in Scotland but sadly no longer with us; Ruth Adler who founded Amnesty's Scotland office 25 years ago and Marjorie Farquarhson who had been a life-long human rights campaigner, had a long career with Amnesty and set up Amnesty International's first ever Moscow Office.
Ruth Adler was Amnesty's first employee in Scotland. Recruited in 1991, she launched the Scotland office with a Burns Night supper, hosted by the soon-to-be Labour Party leader John Smith MP, in  January 1992. Ruth was born in 1944 to parents who, as newly qualified lawyers, were unable to pursue their profession in Nazi Germany, and came to Britain as refugees in the 1930s. She moved to Scotland in the late 60s and taught philosophy at the University of Edinburgh, where she later obtained a doctorate in jurisprudence.
Adler knew that for human rights to be protected, sound theory and individual commitment are not enough; organisations are needed. She was a founder of Scottish Women's Aid and drew upon her long experience as a member of Lothian Region's Children's Panel to establish the Scottish Child Law Centre.
Sadly, Ruth died in 1994 but her legacy lives on, in her family and all who knew her, with a prize and annual lecture named after her at the University of Edinburgh and in the work of Amnesty's office in Scotland.
We were also contacted recently about the death of Marjorie Farquarhson, who sadly died last year. I had campaigned with Marjorie on a number of issues and stood with her, both of us in orange jumpsuits, outside the US Consulate in Edinburgh protesting against Guantanamo Bay. Although I knew she had worked for Amnesty in the past, I had no idea how vast her contribution had been; a testament to her modesty. Marjorie was the Amnesty researcher on the USSR at our International Secretariat from 1978-1992, set up the Amnesty Moscow Office in 1991 and was Director of it until 1996.
"When Marjorie Farquharson set up an Amnesty International office in Moscow in 1991, she was the first westerner working on human rights with a permanent base there. It was particularly important because for years the USSR had considered Amnesty an anti-Soviet organisation that harboured spies." – from Marjorie's obituary, The Guardian, 1 July 2016.
Later in her life Marjorie was an area meeting clerk for the Religious Society of Friends (commonly known as the Quakers) in south-east Scotland and continued to be an Amnesty activist and committed to human rights campaigning.
Learning, researching and hearing about these women from their friends and family has been incredibly inspirational for me. Not only are they an inspiration for Amnesty's work here in Scotland and give me more than enough to live up to! They also reminded me of the importance of women's history and remembering the women whose shoulders we stand on. It is often remarked upon how few of Edinburgh's statues and memorials are to women and how this signifies a lack of attention to women's history.
Well, these are the two human rights defenders that I will be honouring on International Women's Day this year along with all those who continue to inspire, motivate and challenge us today.
About Amnesty UK Blogs
Our blogs are written by Amnesty International staff, volunteers and other interested individuals, to encourage debate around human rights issues. They do not necessarily represent the views of Amnesty International.
View latest posts