Giving refugees a sporting chance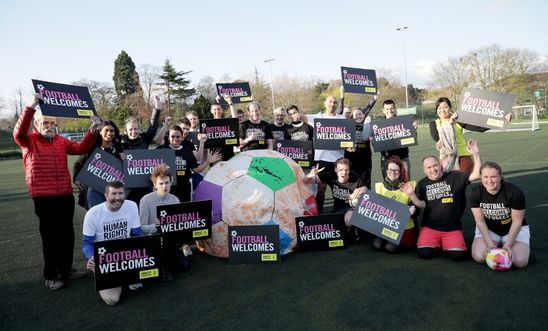 Football Welcomes at the AGM © Marie-Anne Ventoura
This blog is written by Amnesty Scotland volunteer Maneeya Saributh
Mark your calendar for the weekend of 27-28 April and be ready to be a part of something fun – its Football Welcomes Weekend! 
Did you know that, refugees have made important contributions over the years to (probably) our most beloved sport over the years? From the first few refugee professional football players who found a home in the UK after fleeing   from the Spanish Civil War in the 1930s, to so many more in the recent years like Granit Xhaka, Nadia Nadim and current Ballon d'Or holder Luka Modrić, who have made their way to the very top of the football world.
In 2017, to celebrate this long-standing traditional sport and great contribution of refugees in our communities, Amnesty International UK launched Football Welcomes as part of the I Welcome global campaign.
Back for its third year, Football Welcomes creates an opportunity to bring football clubs and their communities together to put on fun events and activities to welcome refugees and people seeking asylum. In the first year of Football Welcomes - 30 local clubs and eight clubs in the English Premier League joined us. Whilst last year, the total number of participated clubs doubled more than 60 clubs across the UK!
This year, we're kicking off in style with Scotland Premiership teams including Celtic, Rangers, Hibernian and Hearts, along with grassroots, University and youth clubs across Scotland. On the 27 -28 April, these clubs will be showing their support in a number of ways – from warming up In Football Welcomes t-shirts, to organising matches, offering free tickets and stadium tours for refugees and asylum seekers.
Less than a week before the big Football Welcomes Weekend and it's still not too late to join us for this year (the more the merrier!). If you are a football club and want to be part of this, all you have to do is email Pauline.kelly@amnesty.org.uk or tweet us @AmnestyScotland
If you are an individual, you can also support this campaign by getting in touch with your local football club and ask them to take part if they haven't yet joined Football Welcomes.
Find out how to get your local football club involved with Football Welcomes.
Teachers! We also encourage schools to participate in this campaign, download our free education resource – "Football Welcomes Activity Pack".
If your club is already taking part, please don't forget to show us some love on your social media with #FootballWelcomes and tag @AmnestyScotland and @AmnestyUK on Facebook, Twitter and Instagram.
Looking forward to seeing you all at the games, kick off is just around the corner!
About Amnesty UK Blogs
Our blogs are written by Amnesty International staff, volunteers and other interested individuals, to encourage debate around human rights issues. They do not necessarily represent the views of Amnesty International.
View latest posts