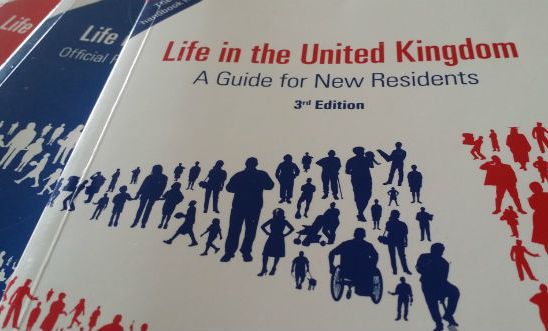 The Hurdles Faced by Migrants to the UK
Lee Caspi is a research volunteer with Amnesty International UK's Scotland office
Immigration has been at the forefront of political discourse in the UK in recent years. The issue was one of the focal points of the Brexit campaign, and harsher immigration policies have been steadily introduced by the conservative governments since 2010. Additionally, the result of the EU referendum has left many Europeans who live in the UK in a state of uncertainty regarding their future status in this country. This post will tell the personal stories of some of the "normal" UK residents who are impacted by the ever-tightening grip of the UK immigration authorities.
One policy, introduced in 2012 by then Home Secretary Theresa May, requires British citizens with non-EEA spouses to earn above £18,600 per annum or have over £60,000 in savings in order to have their partners live with them in the UK. The income threshold goes up to £22,400 for couples who have one or more children. It has been estimated that 41% of the British population do not meet this threshold, and that 15,000 children are living overseas, separated from their British parent. This policy has been a source of hardship for many couples, forcing them to either live separately or live elsewhere. Those who choose to attempt to live in the UK face high costs and months of stress whilst undergoing the application process.
I spoke to Liam, a 28-year-old comedian living in Edinburgh, who met his Australian wife Lauren during the Edinburgh festival in 2014. Lauren was nearing the end of her 2-year working visa to the UK and soon had to return to Australia. The couple quickly formed a strong relationship, deciding to look for a way to live in the same country. Both felt their lives are in Edinburgh, so Lauren came back on a 6-month visitor's visa. They hired an immigration lawyer who recommended they get married. So they did. But meanwhile Lauren's visa ran out, and she was forced to leave.
The couple's original intention was to apply for Lauren's visa as soon as possible, and while Liam had earned enough for the year 2015-16 to qualify for the visa and had filed an honest tax return, the two faced further hurdles. Liam frequently gets paid for gigs in cash and didn't feel the need to deposit the payments, but the immigration authorities required all his income to appear in his bank statement, which came very slightly short of the £18,600 threshold – so Lauren and Liam were forced to wait for the start of a new tax year, living on opposite sides of the world, in a constant state of stress and uncertainty.
The experience has been an eye-opening one for Liam: "You see yourself boiled down to a number of how much money you made last year, that's the only barometer for how I am as a citizen, you feel like a statistic. Your benefit to society could have nothing to do with money – you could volunteer, you could spend all your time helping people … but if you haven't gotten past that figure you might as well be nothing."
I spoke to another British citizen who preferred to remain anonymous, whose husband has recently moved back to the US because she doesn't meet the income threshold. She plans on joining him in the foreseeable future, and feels that "the predicament we have been placed in is a disgrace", forcing them to live apart until they figure out a plan that enables them to be together.
In addition to the income threshold, the process itself is incredibly costly. The application costs over £800, and couples commonly pay an extra £500 to "expedite" the process. Additionally, Liam said he doesn't see how this could be done without an immigration lawyer, as their lawyer's experience was vital to the success of their application. Further, applications are submitted by post, and if an applicant wishes to check its status, they can either do so by phone at a cost of £2 per minute, or by email at a cost of £5 per communication.
The high cost of immigration services in the UK are faced by any person wishing to normalise their situation in the country. I spoke to Claudia, a German woman who has been living in Scotland since 1993, is married to a British citizen and has raised three children here. Until the EU referendum, Claudia felt quite Scottish-British, but the result has made her feel less welcome in the country. She decided to apply for British citizenship when she realized that, despite having lived here for 25 years, there was a small chance she would face deportation.
The process was long and costly, totalling over £2,000. She shared that "being a doctor it's not a problem for me to pay that money, but there are plenty of Europeans here who have perfectly fine jobs but are not as well paid as I am." People who cannot afford to apply for citizenship will have to remain in an uncertain position until Brexit negotiations conclude.  
Claudia reflects that "the thing that I really struggled with was that I had to go for a language test. I'm a consultant psychiatrist, so my whole work is very language based. I've done a post-graduate degree here… but there was no way that I could circumvent the language test."
She was also forced to sit the "Life in the UK Test", which in her opinion most British citizens would not pass without preparation. Additionally, her two children who are over the age of 16, and have been living in the UK their whole lives, had to undergo an interview in order to be issued UK passports as they had travelled on German passports previously.
Some EU citizens are already leaving, or considering the option. I spoke to Christine, a 46-year-old woman from Germany who moved to Scotland 3.5 years. She has been working for the same company since moving here, and most of her customers are German speaking, indicating her role would not be easily filled by a UK citizen.
Reflecting on her time here, Christine said "I think of it as a home… When I go to Germany for a visit coming to Edinburgh is going home." Like Claudia, she has never been made to feel unwelcome by local British citizens.
In the immediate aftermath of Brexit, Christine's assumption was that she would simply have to go through a bureaucratic process and would be able to stay here. But "now I actually think they might tell me I must go, or the Government … might make it so expensive or complicated or difficult for us, that at some point you'll simply give up." She has many co-workers who face similar concerns, some of whom have already left. While Christine has made the choice to wait and see what happens, she is considering her other options.
The present atmosphere in the UK is extremely unwelcoming towards foreigners. The British authorities make no effort to hide their desire to see fewer immigrants in the country. These attempts to "protect" British resources and jobs have made normal British people who happened to fall in love with a foreign national feel alienated from their own country. They have also made law-abiding, hard-working EU citizens consider their options, the sense of insecurity leading some to leave before they're told they must. Perhaps the greatest irony is the fact that none of the people I spoke to feel they are unwelcomed by "normal" British people. While this may be unique to certain parts of the UK, it is worth highlighting to the public that these are the people the current immigration system is trying to keep out.
About Amnesty UK Blogs
Our blogs are written by Amnesty International staff, volunteers and other interested individuals, to encourage debate around human rights issues. They do not necessarily represent the views of Amnesty International.
View latest posts