Happy Birthday, Mister President! Vladimir Putin, 62 years old today, will be celebrating his birthday in Siberia, apparently.
I have some ideas for presents, should any relatives or friends of the President be searching for last-minute ideas. (Tip: many of these presents will only be available through the Belarusian black market.)
1. A copy of Putin's Russia by Anna Politkovskaya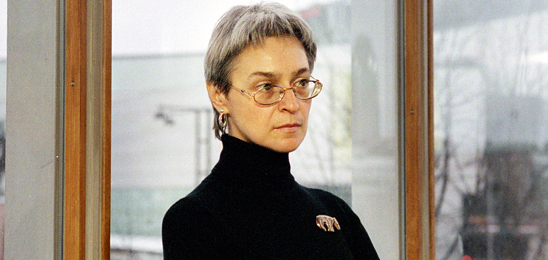 Anna Politkovskaya was shot dead seven years ago today. A brave, strong and sharp journalist, Anna repeatedly spoke out against Putin's increasing stronghold on civil society, and stood up to the collection of organised crime heavies and political bullies who intimidated, assaulted and eventually killed her. In Putin's Russia, published in 2004, she painted a picture of a police state increasingly soviet in its crackdowns on civil liberties, run by one megalomaniac with little respect for human rights (Happy Birthday!).
'I am not one of [Putin's] political opponents or rivals, just a woman living in Russia. Quite simply, I am a 45-year-old Muscovite who observed the Soviet Union at its most disgraceful in the 1970s and '80s. I really don't want to find myself back there again.'
Anna Politkovskaya
Anna is one of countless journalists who have been targeted for criticising Putin's government. By reading her book, Putin could see how far he's come in repressing human rights and muffling civil society over the past decade, and consider how close he has come to re-establishing the Soviet state.
2. Some newspaper subscriptions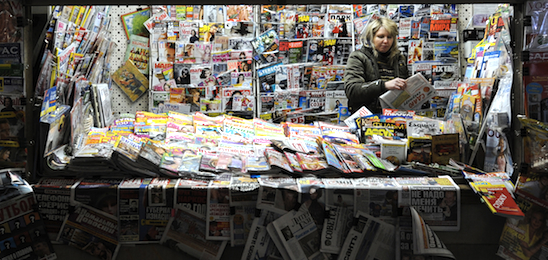 In another effort to silence criticism from outside the country, last month Putin's government voted overwhelming to cap all foreign media investment in the country at 20%. This will sever funding for the few critical news outlets in the country – Vedomosti, Forbes Russia, The Moscow Times – when it comes into effect in 2016.
'Those who own information own the world. It is obvious that when foreigners enter the mass media market of any country they practically gain access to people's minds, to forming of the public opinion.'
Vadim Dengin MP tabled the Bill
There is no room for opinions formed outside of the Putin party line – this doesn't just apply to foreign media (see also beating up a BBC crew last month). Last year Putin closed down state news agency RIA Nostovy by Presidential decree, replacing it with the more palatable Russia Today. Run by a Putin faithful, Russia Today has been a mouthpiece for government views and policies, especially on the Ukraine conflict.
A range of papers could allow Putin to read something a bit different – the lack of debate and analysis in Russian media must be rather dull.
I'd like to send Putin some UK papers, too, so he can catch up on how he's influencing political policies over here.
3. Some portraits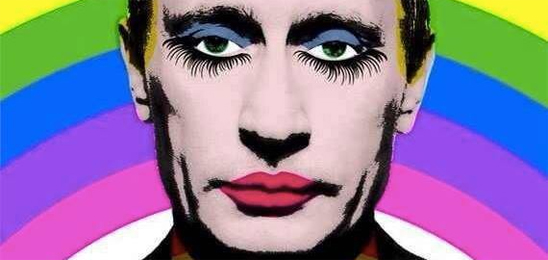 I suspect Putin confiscated these portraits so he could have them for himself to hang in the Kremlin. Therefore I'd like to send him some more: the Kremlin is pretty big.
4. A new laptop
Putin has embraced the internet in his own special way. It's a pesky beast, opening up publishing space without state authorisation and allowing discussion, debate and connection between people all over the world. Putin has managed the situation by passing some laws that allow the Russian government to shut down websites at a moment's notice (handy for silencing criticism on sites like Grani.ru and opposition activist Garry Kasparov's blog).
Social media, friend of irritating activists, campaigners and journalists around the world, is now restricted under a law that requires sites to register with authorities, and for users to give real names and contact details when they post online, and face the legal consequences of whatever they post.
Last week Putin mentioned that he is looking to strengthen Russia's internet security, alongside plans to unplug the Kremlin from the internet if things get serious, blocking non-Russian IP addresses from browsing Russian-hosted content.
5. A neon balaclava
Remember Pussy Riot? Something for Putin to gloat about over his birthday cake.
6. A spy costume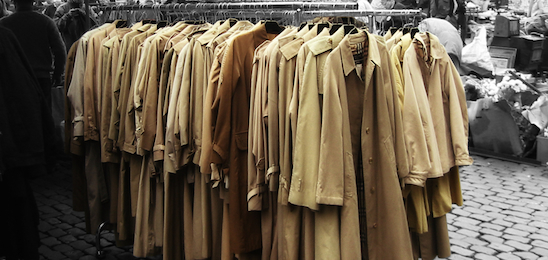 Putin has manipulated the shrinking of civil society by cracking down on non-governmental organisations through the 'foreign agents law'. The law associates NGOs with spies and traitors, and encourages suspicion of such groups. Through it, many organisations big and small have been inspected – Amnesty's Moscow offices have been searched – some taken to court, others fined, a few shut down.
If being reminded of how much he's legally restricted criticism and opposition as well as civil engagement and social debate through non-governmental organisations doesn't cheer Putin up, a spy outfit will at least remind him of his glorious KGB past.
7. Party guests: dozens of plastic mannequins and some foreign exchange students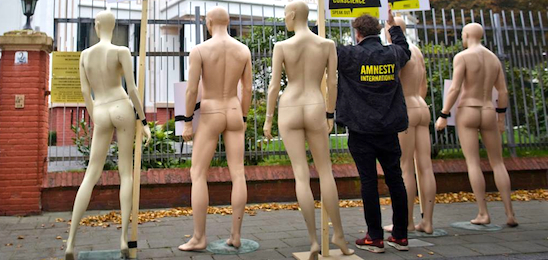 A mass gathering of people outdoors is tricky, since Putin's government has outlawed pretty much any public gathering that hasn't been approved in advance - legislation that could put off potential party guests. Which is why I think Putin should invite some plastic mannequins to his birthday party. 
Our colleagues at Amnesty Netherlands held a little protest party for Putin outside the Russian Embassy in Amsterdam yesterday. The guests? One activist and a whole pile of plastic mannequins (Russia allows one-person protests – in theory, anyway). The Russian Embassy complained and called the police, who turned up and (illegally) bundled our activist and all the mannequins into a police van. At a similar demonstration in Moscow last week Russian police did not dare intervene in front of watching journalists.
Plastic mannequins have the added bonus of not being able to say anything that would insult or contradict the President – the perfect guests!
If real guests are permitted, I suggest Putin invites some foreign exchange students. They may be the children of Putin's divorce from much of the rest of the world, and I think that some quality time spent with some polite, eager students would show Putin that he really doesn't have to fear them – not even the gay students who just want some peace and to live in a society that won't punish them for who they are.
8. Party music, courtesy of Elton John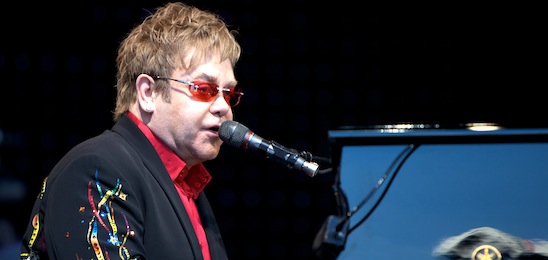 Putin is a fan; Elton John is less than keen on Putin's hate-mongering campaign to discriminate against the LGBTI community and spread the message that gay people are sub-human, however.
9. A birthday meal: French cheese, Italian meat, Norwegian fish, Scottish whisky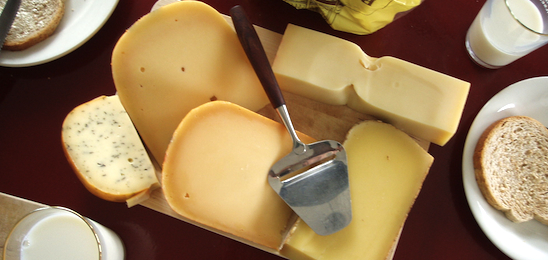 Since he issued a sudden blanket ban on foreign food imports back in August, I reckon Putin might be missing some of life's fineries, especially on his birthday. Unsurprisingly, Muscovites have declined to criticise the new policy publicly, but a surge in repackaged imports via Belarus has been reported.
After a night of fine foods and vodka, he might even want a greasy McMuffin for breakfast courtesy of the once-again banned McDonalds.
10. A heroically flattering birthday card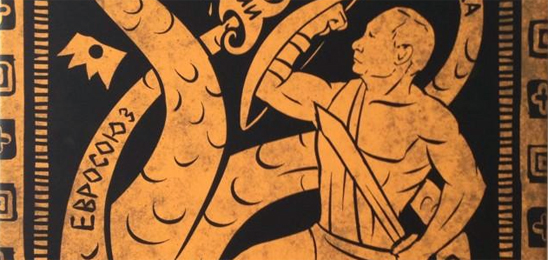 Putin has loyal supporters. In fact, some of them have depicted him as a modern-day Hercules today. How better to mark this special day with a big card showing the man himself fearlessly beating off the horses of corruption? Happy Birthday, Putin!
About Amnesty UK Blogs
Our blogs are written by Amnesty International staff, volunteers and other interested individuals, to encourage debate around human rights issues. They do not necessarily represent the views of Amnesty International.
View latest posts