More in Common: Refugee Week and The Great Get Together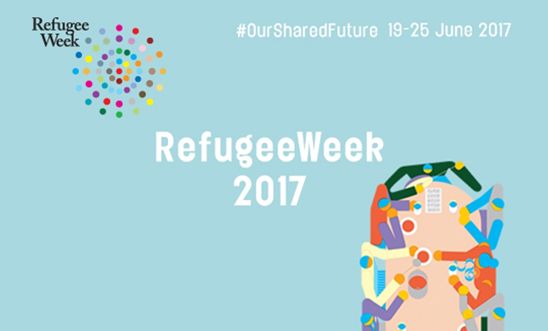 It may feel like there are many things which divide us as a country right now, so what better time to celebrate what we have in common!
Over the next two weeks, Amnesty supporters across the country will be helping to create more welcoming communities, for all of us, but particularly for those who have come to the UK for safety, having fled conflict and persecution. 
Next week is Refugee Week, a wonderful celebration of the contribution refugees have made and continue to make to our society. Refugees have enriched and strengthened our country, from art and culture, to sport and science. This year the focus is on 'our shared future' and there are events happening right across the country. Check here for an event near you.
Best of British culture
This year's Refugee Week also falls the week after the anniversary of the shocking murder of Jo Cox, an MP who has become emblematic of the best parts of British culture. In her maiden speech, Jo pointed out that 'we have more in common than that which divides us'. This simple statement of our universally shared humanity in the midst of a political race-to-the-bottom to demonise refugees was timely, profound and powerful. Amnesty International is proud to be a partner of The Great Get Together and will be joining with Jo's husband, Brendan, to share in this national celebration of both Jo herself, and of common humanity.
We are supporting these events as part of our 'I-Welcome' campaign, which calls on the international community to share responsibility for hosting and assisting refugees, but is also about working to change the debate at a national and local level, to ensure that people arriving here feel valued, welcomed and wanted – and we are not doing it alone.
From marching in solidary with refugees in the street, to working with football clubs to celebrate the incredible contributions of refugees to the sport, to partnering with 'City of Sanctuary', to learn more about how local communities can better welcome and engage with refugees, we are striving to create a more welcoming country for people who have fled conflict and persecution. 
So what can you do? Get involved.  
We have produced a toolkit to help people put on fantastic, welcoming Great Get Together and Refugee Week events, model press-releases to help you shout about them afterwards, ethical guidance to help you make sure that you're working in a way that is safe and constructive for everyone involved, and placards so you can tell the world that Amnesty International stands with refugees. (Instructions for ordering free placards are in the toolkit under 'resources'.)
Then shout about it. Share what you're doing – get on Twitter, Instagram and Facebook using the hashtags #GreatGetTogether, #MoreInCommon, #OurSharedFuture #IWelcome and #RefugeeWeek. Let us know too by tagging us @AmnestyUK! You can also email your photos of your events to gettogether@amnesty.org.uk.
We know that real power lies in bringing together the outrage and compassion of millions of ordinary people. Add your voice to others and help us create a chorus of welcome that overcomes the sniping, dehumanising narrative. Attend refugee week events, including Great Get Together events, be active, represent Amnesty or just be proud to say 'I Welcome Refugees'.
About Amnesty UK Blogs
Our blogs are written by Amnesty International staff, volunteers and other interested individuals, to encourage debate around human rights issues. They do not necessarily represent the views of Amnesty International.
View latest posts