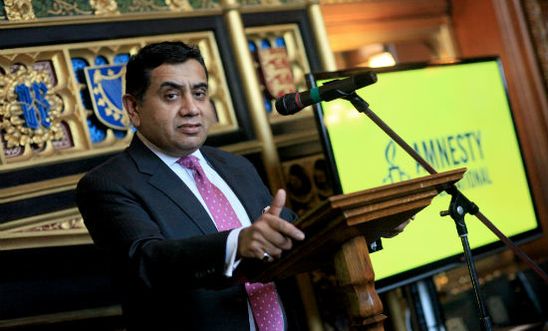 Lord Ahmad, Human Rights Minister
By Sharmini Varatharajah, Advocacy & Activisim Assistant Volunteer at Amnesty International UK.
On 6th December 2017, we held our annual Parliamentary Reception in the Speaker's House of Westminster Palaces to mark Human Rights Day. We were joined by Ministers, MPs, Peers as well as Amnesty supporters and activists who participated in our Write for Rights campaign by writing messages of support and solidarity to Human Rights Defenders (HRDs).
The Parliamentary Reception was a great opportunity to be reminded of and appreciate the inalienable rights we are entitled to, but also to remember those who are denied the basic human rights that we often take for granted. The event also highlighted the ongoing support we receive from across Parliament and Government, exemplified by our keynote speaker, Lord Ahmad, Human Rights Minister, who said that Amnesty's guidance is crucial to the work of diplomats who play a key role across the world.
This year's Write for Rights campaign focuses on HRDs that come from all walks of life and increasingly face harassment, intimidation, smear campaigns, ill treatment, unlawful detention and sometimes even torture and murder to deter them from their vital work. They work tirelessly to champion human rights, but are often painted as a threat to security or traditional values by both state and non-state actors. The cases featured in the campaign illustrate how HRDs are treated despite the 1998 Declaration on Human Rights Defenders which recognises the importance that civil society actors play in defending the principles that support human rights.
This year, 50 Parliamentarians attended our event and took action on our featured Write for Rights campaign cases. This included taking photos, calling for justice for the death of Xulhaz Mannan, who was brutally murdered in Bangladesh for his LGBTIQ activism.  Attendees chose their favourite places in the world to add to a world map as suggestions for Azza Soliman, a lawyer who is facing a travel ban as a result of her life long dedication to defending victims of torture, arbitrary detention, domestic abuse, and rape in Egypt. A map of China was also set up to hang messages of solidarity for Ni Yulan,  an award-winning housing activist who has defended Beijing residents against forced evictions despite harassment, surveillance, restrictions on her movements, detentions and physical attacks. 
We were fortunate enough to hear the inspiring words of Issa Amro, a prominent Palestinian HRD and a case in our campaign whose freedom is being curbed by both the Israeli and Palestinian authorities. This attack from both sides demonstrates the shrinking space for freedom of expression faced by HRDs. Issa, together with fellow Palestinian HRD Farid al-Atrash, face a prison sentence for their peaceful protesting against illegal settlements in the city of Hebron in the occupied West Bank. Parliamentarians and attendees showed their support by writing what they have protested for in their lives.
Attendees signed cards to the Turkish authorities, calling for them to drop the charges against the Istanbul 10 and to immediately and unconditionally release Taner Kılıç who are all under investigation for erroneous terrorism-related crimes. This is an attempt to corrode human rights activism and to send a chilling message to other dissenting voices in Turkey.
The five cases featured at our Parliamentary reception are just an insight into the vast number of cases of abuse HRDs encounter daily around the world. The defence and promotion of their rights and the space in which they live and work is one of the most significant ways to ensure human rights are protected for everyone. Write for Rights not only exposes worldwide attacks on human rights and those who defend them, but shows that real change happens through letter writing. Please join us in making a difference!
About Amnesty UK Blogs
Our blogs are written by Amnesty International staff, volunteers and other interested individuals, to encourage debate around human rights issues. They do not necessarily represent the views of Amnesty International.
View latest posts