Campaigning to free Kamal Foroughi, the longest imprisoned EU citizen in Iran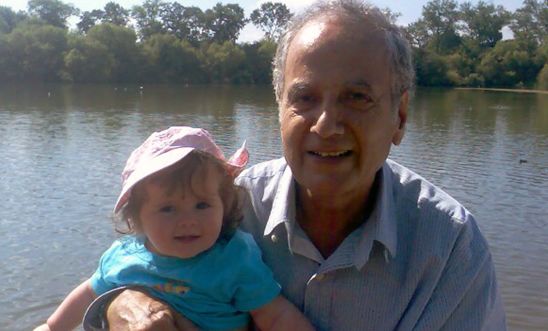 Written by Daren Nair, Amnesty International UK activist.
On 3 September 2017, British grandfather Kamal Foroughi turned 78 years old. This was his 2,315th day behind bars in Iran's Evin Prison. My local Amnesty group and I have spent the last year campaigning for his release.
Kamal Foroughi was targeted by Iranian authorities due to his British-Iranian dual-nationality. My best friends are dual-nationals too. They came to Britain as minorities in their countries of birth discriminated against by their own government. Kamal was not political nor an activist so if this could happen to him then it could happen to my friends too. 
I started volunteering with Amnesty International in 2015. Before joining Amnesty, I would spend my evenings watching The Daily Show with Jon Stewart and The Colbert Report, both shows that pointed out injustices in the world and ignited my passion for human rights. These shows made me want to change the world but I didn't know how, until I joined Amnesty and my local Tower Hamlets group.
The Amnesty Tower Hamlets group was founded by Dan Jones, a man who has been campaigning for human rights for over 40 years. He is a grandfather and the same age as Kamal Foroughi. When I went to the group with this case, everyone agreed to campaign for Kamal. Dan recorded a video message of solidarity on behalf of our group which we shared with Kamal's family. We did a photo action and wrote letters to our MPs and MEPs. 
I met the Foroughi family in October 2016 at Amnesty's London office. Kamal's son, Kamran spoke to us about his father's case. He described in detail the suffering Kamal and his family have been going through and despite that, I could still see resilience and hope on his face. Even if he feared the worse for his father, he stayed strong for the sake of his two daughters.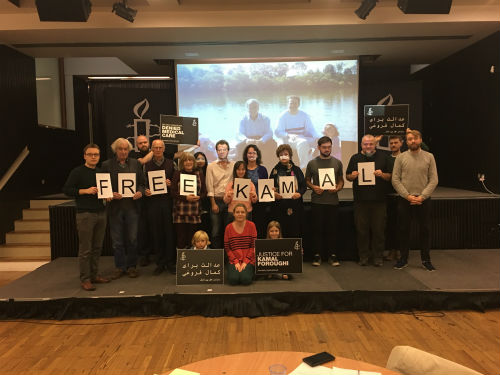 Photo action for Kamal Foroughi at Amnesty's office in London last October
Earlier this year, I attended a demonstration for Kamal Foroughi and Nazanin Zaghari-Ratcliffe (another British dual-national imprisoned in Iran) at the London screening of the Iranian movie, The Salesman. We knew there would be many Iranians present so we wanted to raise awareness of their cases, which we did.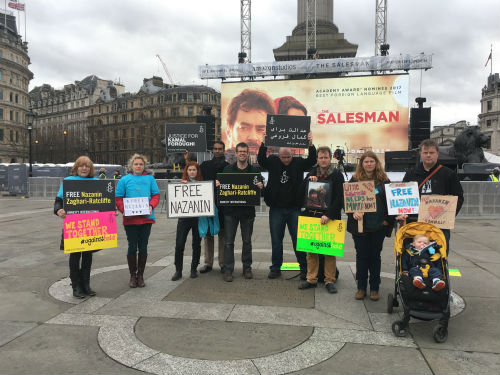 Demonstration for Nazanin Zaghari-Ratcliffe and Kamal Foroughi at The Salesman premiere
I've been campaigning on social media for Kamal almost every day so people don't forget about him and keep raising his case with their politicians. I also wanted to show the Foroughi family that they're not alone and many of us care and support them.
On Tuesday, 5th September, I attended an event outside the Iranian Embassy in London to celebrate Kamal's 78th birthday with his family. Our group members wrote many birthday messages for Kamal. I hope this will be his last birthday in prison and that he gets to spend many more with his family back home in Britain. 
Supporters celebrating Kamal's 78th birthday. 
About Amnesty UK Blogs
Our blogs are written by Amnesty International staff, volunteers and other interested individuals, to encourage debate around human rights issues. They do not necessarily represent the views of Amnesty International.
View latest posts