Florida: the sunshine state or the death row state?
Death in the sunshine state
Florida has the second largest death row in the US and is ranked fourth in the number of executions carried out at state level since 1976. Florida's current Governor, Rick Scott – an ardent supporter of the death penalty – has been signing off multiple bills and death warrants since he took office in 2011.
In November this year a new Governor is due to be elected, which presents an opportunity to demonstrate to the newcomer that the death penalty is cause for serious concern for many people, both within Florida and among those who visit and do business within the state.
The Florida death penalty report acts as part of our campaign to bring this issue to the attention of the Florida elected officials.
Hurst v. Florida
In 2016 the US Supreme Court found the state's capital sentencing statute unconstitutional (Hurst v. Florida) because it only gave juries an advisory role in death sentencing, which was incompatible with the Court's 2002 ruling (Ring v. Arizona).
After Hurst, the only way to guarantee consistency in the application of the death penalty was to overturn all existing death sentences in Florida. However, Florida's Supreme Court only applied the Hurst ruling to roughly half of the 400 existing cases – those that had not yet been 'finalised' by the time of the June 2002 Ring ruling.
Post-Ring cases would be entitled to re-sentencing if the state failed to prove that the Hurst error was 'harmless'. Adding another layer of arbitrariness to the decision on whether some lived and others died.
Case study
Matthew Marshall is on death row for a murder committed in 1988 when he was 24 years old. The jury voted unanimously for life imprisonment, but the judge overruled their decision, sentencing Marshall to death.
Even though such overrides are now prohibited in Florida following the Hurst ruling, he has been deemed ineligible for retroactive relief due to the date his crime was tried.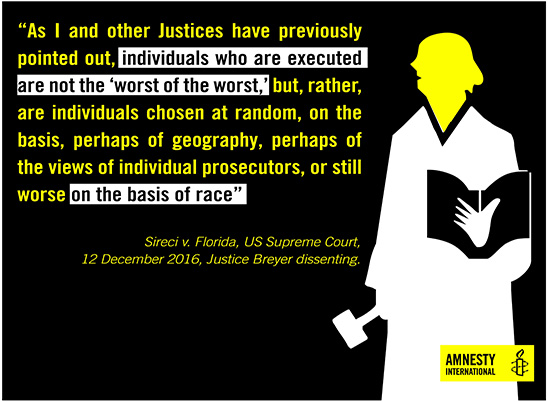 Mitigating circumstances
In 2015, even before the Hurst ruling, two US Supreme Court Justices argued that the death penalty had fallen into disrepair because of arbitrariness and error, and was not being reserved for the 'worst of the worst' crimes and offenders, as required under US constitutional law, most notably in Florida.
The report looks at cases of individuals with serious mental disability, those assessed with actual or borderline intellectual disability, and young adults deemed as having mental maturity lower than 18-year-olds and backgrounds of severe deprivation and abuse.
It also highlights how race influences use of the death penalty in Florida. Twenty of the state's 96 executions since 1976 were of black defendants convicted of killing white victims, but no white person has been executed for killing solely a black person in Florida. 
We are urging prosecutors in Florida to stop pursuing the death penalty when faced with capital murder cases and to ensure that all judges and juries are made fully aware of the mitigating evidence surrounding mental and intellectual disabilities, emotional and psychological immaturity, or backgrounds of abuse and deprivation of all defendants and death row prisoners.
About Amnesty UK Blogs
Our blogs are written by Amnesty International staff, volunteers and other interested individuals, to encourage debate around human rights issues. They do not necessarily represent the views of Amnesty International.
View latest posts