Don't let Georgia execute Troy Davis
Troy Davis has spent over 20 years on death row in Georgia, USA, for a murder he has always stated he did not commit.
His case is riven with doubt.  No physical evidence links Troy to the crime. 7 of the 9 witnesses have changed or retracted their testimony, with some citing police coercion. Witnesses have identified another suspect.
Yet despite this, Troy Davis now has an execution date: Wednesday 21 September at 7pm US time. We firmly believe that no one should face the death penalty. The irrevocable nature of execution is too risky when doubt exists — and there are so many doubts around Troy's guilt.
We've campaigned for Troy to be taken off death row for 6 years, and with your help and the support of thousands of people around the globe, we've helped Troy avoid 3 scheduled executions in the past. We need your help to do that again. We've not got a lot of time.  There are 3 ways you can make a difference right now.
3 ways to help save Troy Davis — there's too much doubt to execute
1. Email the Georgia State Board of pardons and paroles and ask for clemency
It's that simple. Email them now. It'll take two minutes and your polite, respectful request that they grant clemency based on the doubts in this case may be the one that convinces them.
2. Change your twitter picture and spread the word that there's #toomuchdoubt

We need to show the world that we're watching and how much support Troy has. Swap your Twitter pic with the one to the left (just right-click on it to save it, and then go to 'Profile' in your twitter settings to upload it), and then send out one or more of our #TooMuchDoubt tweets encouraging your friends to take action. Maybe you could send one a day until the hearing on Monday 19? To tweet a doubt, just click on the Tweet button next to it:
#TooMuchDoubt Georgia may execute #TroyDavis even though 9 witnesses say another committed the murder. Take action:
#TooMuchDoubt Tell Georgia to stop a grave miscarriage of justice. Save #TroyDavis from execution:
#TooMuchDoubt 6 eyewitnesses in the #TroyDavis case have recanted their testimony. Don't let Georgia execute Troy:
#TooMuchDoubt No physical evidence directly links #TroyDavis to the murder. Don't let Georgia execute Troy:
3. Change your Facebook picture and share our action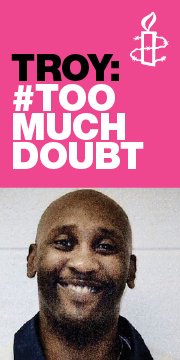 We know from previous actions we've run that your Facebook friends are very valuable – they listen to you.
So swap your Facebook profile picture (just right-click to save the image to the left, and then upload it in Facebook as a new profile pic), click the share button below, and write something encouraging your friends to take action.
We'll be doing more as the date gets closer, so keep checking back and follow us on Twitter or Facebook for more updates.
About Amnesty UK Blogs
Our blogs are written by Amnesty International staff, volunteers and other interested individuals, to encourage debate around human rights issues. They do not necessarily represent the views of Amnesty International.
View latest posts