Remembrance and Resistance – 28th Anniversary of Tiananmen 記憶與抗爭 – 伦敦纪念"八九六四"二十八週年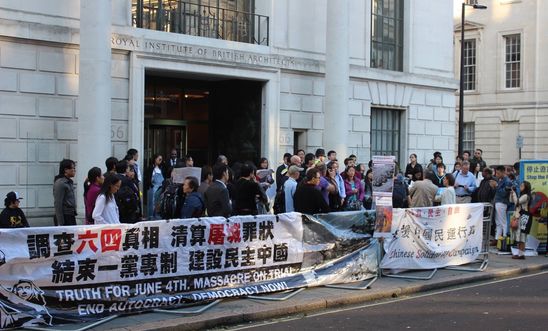 To mark the 28th anniversary of the 1989 pro-democracy movement, a candlelit vigil will be held outside the Chinese Embassy in London on June 4th. We will highlight the stories of the citizens who were killed in the Massacre by the army of the CCP.
In recent years, there are over two dozen 1989 Movement participants who have been imprisoned in recent years, including lecturers Hu Shigen and Lü Gengsong; labour activist Liu Shaoming; students Chen Wei, Liu Xianbin and Chen Bing; Human Rights Forum initiator Chen Xi; performance activist Chen Yunfei; lawyer Xia Lin; Buddhist monk Sheng Guan (aka Xu Zhiqiang); China Democracy Party founder Chen Shuqing; writer and Nobel laureate Liu Xiaobo …
The courage of the tank man has never died. It has manifested itself in the rights defending movements across China, in the struggle for freedom of the Tibetan and Uyghur peoples, in the Umbrella Movement in Hong Kong.
Date: Sunday 4 June, 7pm – 10pm
Venue: outside the Chinese Embassy, 49-59 Portland Place, London W1B 1JL
Nearest tubes: Great Portland Street, Oxford Circus
Free speeches and speakers include:
Dr WANG Chaohua, Tiananmen student
Alex CHOW, organiser of Umbrella Movement in Hong Kong
Lucy JIN, Tiananmen Mothers' Campaign
Dr Stephen NG, Chinese Solidarity Campaign
SHAO Jiang, Tiananmen survivor
….
In Chinese 中文
記憶與抗爭 – 伦敦纪念"八九六四"二十八週年
今年是一九八九年民主運動二十八週年,六月四日晚將在中使館外舉辦燭光悼念活動。參加者將講述被中共軍隊殺害的公民故事。
最近幾年,二十多名一九八九年民主運動參與者者被囚禁,包括教师胡石根和吕耿松、勞工人士劉少明、學生活動人士陳衛、劉賢斌和陳兵、人權論壇創辦人陳西、馴獸師陳雲飛、律師夏霖、聖觀法師(徐志强)、中國民主黨創始人陳樹慶、作家諾貝爾和平獎得主劉曉波…
坦克人的勇氣永不消失,存在與中國各地风起云涌的维权運動中,爭取西藏和維吾爾人民自由的坚韧不拔的抗爭中,當下延綿不斷的香港雨傘運動中。
時間: 6月4日晚7点 – 10点。
地点:中使馆对面
49-59 Portland Place, London W1B 1JL London
地铁站: Great Portland Street,Regents Park, Oxford Circus
Downloads
About Amnesty UK Blogs
Our blogs are written by Amnesty International staff, volunteers and other interested individuals, to encourage debate around human rights issues. They do not necessarily represent the views of Amnesty International.
View latest posts