Refugee Week at home - Bitesize activities for 7-11 year olds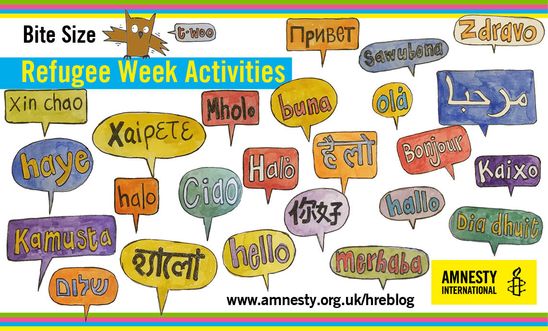 Refugee Week at home © AI / Rich Cowley
Imagine is the theme for this year's Refugee Week, 15-21 June, and here are three learning activities that will give your children an understanding of refugees. 
How would you welcome a newcomer into your community? Do you know about the rich heritage and diversity of people who call the UK 'home'?
As the Covid-19 pandemic separates families around the world, our local community plays an increasingly vital role in our daily lives – both as safety net and in contributing to our well-being. At this time, many of us are separated from loved ones. For refugees, this separation may have existed long before lockdown – and sadly may continue long after nations re-open their borders.
Imagine if …  
… you have just moved into your home and neighbourhood. How would you feel? How would you want your new neighbours to welcome you?
GET
DO
Draw a map of your local area
Include favourite places you would like to share with someone new to your area
Include places they need to know about – like food shops, schools, libraries, playgrounds, doctors.
Hello Everyone
There are over 6,500 languages spoken around the world. Many of these are spoken in the UK alongside British Sign Language, English, Gaelic, Scots, Ulster Scots and Welsh. 
GET
DO
Research how to say hello in as many different languages as you can find. Include languages that use different alphabets. 
Create a colourful poster of different ways to say hello.
Display your poster in the window.
Freedom to choose 
People in the UK are a mixture of different nationalities and of different faiths and no faith. This can show in how we dress, where we worship, and how we live our daily lives. 
GET
DO
Explore the illustration: 
How many ways can you find that people are expressing their religion through what they are wearing? 
Which buildings in the picture could be used for group prayer and worship? 
People can choose to pray and worship privately, in small groups and in large groups. Look at the picture again, where in the picture could people choose to pray and worship? 
WATCH
More activities and virtual events on Refugee Week's Imagine. Refugee Week is an annual UK-wide festival celebrating the contributions, creativity and resilience of refugees. 15-21 June 2020.
Share your artwork with us by emailing hre@amnesty.org.uk or using the hashtags #RefugeeWeek2020 #bitesizeHRE. 
Amnesty's education work is supported by players of People's Postcode Lottery.
About Amnesty UK Blogs
Our blogs are written by Amnesty International staff, volunteers and other interested individuals, to encourage debate around human rights issues. They do not necessarily represent the views of Amnesty International.
View latest posts