Education resources on refugee and asylum issues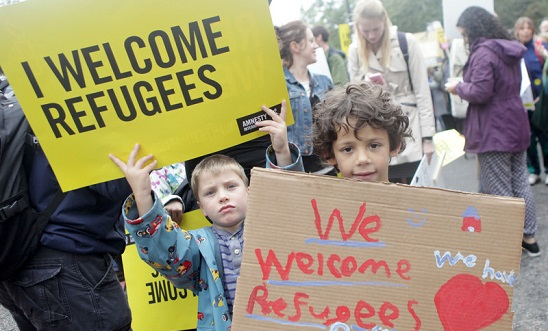 Refugees Welcome Here March London 2016 © Marie-Anne Ventoura - Amnesty International
Empower students to defend the rights of refugees with the following education resources.
This activity pack is designed to approach the issue of asylum in a way that is accessible, and appropriate to primary school children. The pack focuses on asylum, approaching the issue from global and UK perspectives and encourages students to draw parallels with their own lives.
A one hour lesson to understand why people become asylum seekers and the difficulties they face on arrival in another country for use with young people aged 11-16.
This resource, for 7-14 year olds, has been designed to support teachers to encourage discussion about refugee rights and to celebrate the contribution that people of refugee backgrounds have made to the UK, especially to football.
Respect my rights, Respect my dignity. Module 4: Refugees' and migrants' rights are human rights
This resource is a tool for anyone, anywhere, who would like to learn more about refugees' and migrants' rights and get involved in their community or country to advocate for these rights. In particular teachers, young people, activists, human rights defenders and people on the move can use this module to educate and empower their communities to welcome refugees and migrants. Welcoming refugees and migrants includes ensuring that their human rights are respected and protected. While this resource covers the basics of refugees' and migrants' rights, additional resources are included at the end of each section, for those who want to learn more.
This 3-hour course launched on World Refugee Day in 2023. Enroll now to explore topics such as the legal framework for refugee protection, the impact of displacement on health and well-being, and the role of civil society in defending refugee rights. By the end of the course, you will have gained a comprehensive understanding of refugee rights and the challenges faced by displaced populations around the world. You will have the tools and knowledge necessary to advocate for the rights of refugees and to become effective allies and advocates for displaced populations.