Syria military intervention: 6 key points to help protect civilians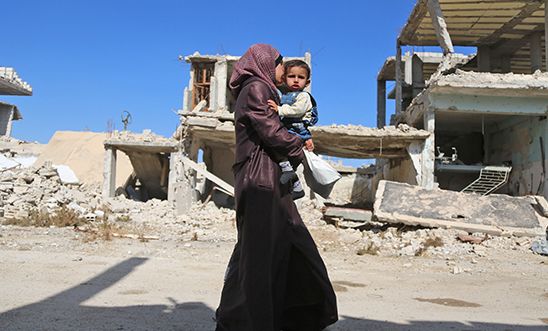 © AFP/Getty Images
The UK, the USA and France have now followed through on hints and threats and taken military action against the Syrian government, which they hold responsible for the recent suspected chemical weapons attacks in Douma.
It's important to remember the context here. For the past seven years, the international community's catastrophic failure to take meaningful action to protect the people of Syria has allowed various parties to this terrible conflict, most notably pro-Assad forces, to commit war crimes and crimes against humanity with complete impunity, often with the assistance of outside powers, particularly Russia.
Complying with international law
UN Security Council resolutions have been repeatedly flouted and ignored by both Bashar al-Assad's government and other belligerents. Widespread frustration with the ineffectiveness and failure of this international body's inability to protect Syrian civilians is totally understandable.
And it's the protection of civilians which must be the key priority in any planning and implementation of new military action in Syria. That's why we continue to call on all parties to fully comply with international humanitarian law. In particular, those concerned absolutely must:
Refrain from targeting civilians or civilian objects
Refrain from carrying out indiscriminate and disproportionate attacks
Refrain from using weapons which are inherently indiscriminate or otherwise prohibited under international humanitarian law, including cluster munitions
Take all necessary precautions in attacks to spare civilians, including by issuing warnings to civilians wherever feasible, and paying particular heed to the fact that detainees are being held in military bases and facilities
Take precautions to protect civilians under their control against the effect of attacks, including avoiding, to the extent feasible, locating military objects within or near densely-populated areas, and removing, where feasible, civilians from the vicinity of military objects
Refrain from using civilians to render military objects immune from attack (that is, as human shields)
If the US and its allies decide to launch further strikes on Syrian military targets they must ensure that these are strictly proportionate and carefully targeted. The paramount concern at all times must be to avoid or minimise the loss of civilian life.
It's highly likely that the Assad regime may use civilians as "human shields" - so every effort must be made to avoid killing or injuring civilians being used in this way.
Unimaginable suffering
Civilians in Syria have already suffered unimaginably in this utterly brutal conflict, overwhelmingly through Syrian government and Russian air bombardments, but also through US-led airstrikes against armed groups like ISIS.
Syrian civilians mustn't be made to suffer even more through indiscriminate attacks by the USA, the UK and others.
The rules of war are there for a reason. Ignoring them will only lead to further civilian suffering and that is the last thing Syrians need.
Kristyan Benedict is a Campaigns Manager (Crisis & Tactical) at Amnesty UK - follow him on Twitter @KreaseChan
About Amnesty UK Blogs
Our blogs are written by Amnesty International staff, volunteers and other interested individuals, to encourage debate around human rights issues. They do not necessarily represent the views of Amnesty International.
View latest posts