Top 5: Trump's Wall of Shame
One year ago, a quarter of a million of us took to the streets to protest hate, bigotry and greed – everything that Trump stands for. It was a historic moment – a triumph of solidarity. Our resistance was visible the world over.
But since Trump took office, the world has experienced a huge setback for human rights. The infamous 'travel ban' is still in effect, discriminating against thousands of people from Muslim-majority countries. Trump's government has ignored the climate crisis, despite the window for change closing. And Trump's zero-tolerance policy on immigration has torn families apart at the Mexico border.
 
His wall of shame is growing. Which is why resistance is needed now, more than ever.
 
Here are Trump's top 5 worst 'Wall of Shame' policies - and how together, we can resist.
 
1) Separating children from their parents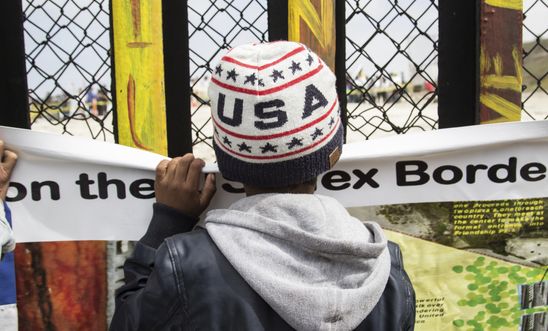 ​
 There has been huge public outcry over the policy of separating migrant children from family members © Leigh Parks
Perhaps the biggest 'brick' in Trump's Wall of Shame is family separation. Within the first year of Trump's administration taking office, over 8,000 families have been torn apart due to catastrophic immigration rules.
 
Valquiria and her son were one of those families. Fleeing from violence in Brazil, they fled to the US – only for Valquiria to be sent to a detention centre, and her son taken away. There have been thousands with similar experiences since.
2) Sweeping away women's rights with the stroke of a pen
​
Women's march in 2017
Two days after the 2017 record-breaking women's marches around the world, Trump brushed aside the rights of millions of women by reinstating the 'global gag rule'. The rule blocks US funding for NGOs that provide support for family planning. This means women's lives around the world are at risk.  Closer to home, with the recent Alabama abortion ban rippling across the US, we're seeing a worrying trend of policies undermining women's right to choose what happens to their own bodies.
 3) Failing to introduce wide-ranging gun-control laws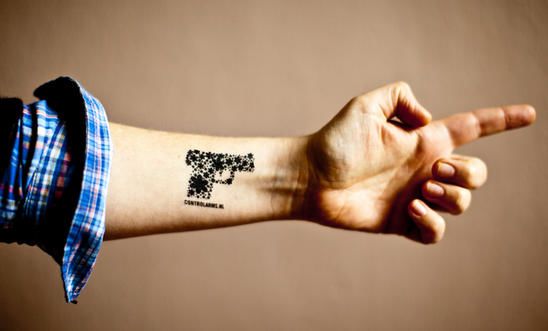 ​
 Despite a furore over repeated mass shootings, campaigners' calls for gun law reforms in the USA have been blocked repeatedly © Marieke Wijntjes / Amnesty International
The National Rifle Association spent $30 million on Trump's election campaign. No surprises then that Trump's government has done barely anything to improve gun control. Yet, as young men of colour are twenty times more likely to die through gun violence than white men, it's clear: the US government continues to prioritise gun ownership over saving lives. 
 
Our report In the Line of Fire shows how American life is compromised by the availability of guns in a country lacking proper regulations and safeguards. You can read the report here.
4) Pulling out of the global climate agreement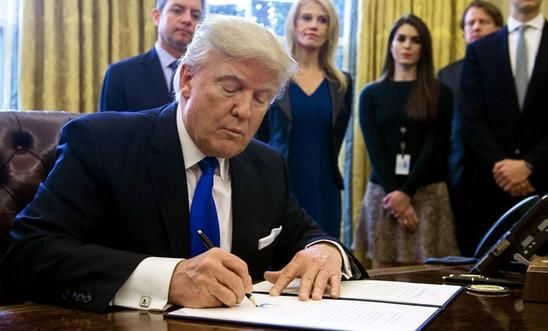 ​
In a tweet Donald Trump has said he 'will be announcing my decision on the Paris Accord over the next few days' © AFP/Getty Images
 
Trump's decision back in 2017 to pull the US out of the Paris international climate agreement could result in a human rights catastrophe of epic proportions. Yet his administration flatly denies the urgency to act – Trump's even on record saying that global warming is a Chinese hoax. By refusing to acknowledge the climate crisis, the President is putting millions of lives in severe jeopardy.
5) Pushing ahead with a travel ban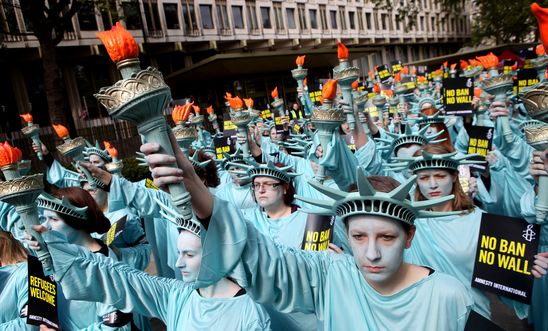 ​
 Protesters outside the US Embassy in London earlier this year © Marie-Anne Ventoura
 
One of the first policies Trump set into action was to slam the door on refugees and ban certain Muslim-majority countries from entering the US. Trump describes the decision as a 'tremendous victory for the American people'. Yet the ban demonises the vulnerable and is a licence to discriminate against Muslims and refugees.
 
The ban sent shockwaves around the world. 31,000 of us in the UK came together to resist the policy of hate, and demand Trump overturn the order. Since then, fresh and legal challenges are continuing to contest the legality of the ban.
  
The toll of Trump's policies and approach to immigration has been brutal and are a gross violation of international law.
What will you do?

If you haven't taken action – you can act now to resist hate.
Despite countless hateful policies that make up Trump's Wall of Shame – there is hope in the resistance. 
Valquira knew drug traffickers would kill her and her son if they stayed in Brazil - so they fled to the US.  Because of Trump's immigration policies, US border officials took her son away and sent Valquira to a detention centre, that was a year ago. Today, Valquira and her son are still separated.
Click here to call on the US officials to urgently reunite Valquiria with her son.
Activists who work and volunteer to prevent migrant deaths at US border crossings are also increasingly under threat. Dr Scott Warren is facing up to 20 years in prison, simply for providing food, water and clean clothes to those who need it the most
Take action here to urge the US to drop charges against Dr Scott Warren.
 
When we come together, our voices are amplified. When thousands of us speak out against injustice, we are powerful.
 
Whether it's on the streets, on social media or in the corridors of power, we will continue to resist hate. Let's stand together for equality, love and inclusion.
 
About Amnesty UK Blogs
Our blogs are written by Amnesty International staff, volunteers and other interested individuals, to encourage debate around human rights issues. They do not necessarily represent the views of Amnesty International.
View latest posts