Ten years since the execution of Troy Davis: remembering the campaign to stop his execution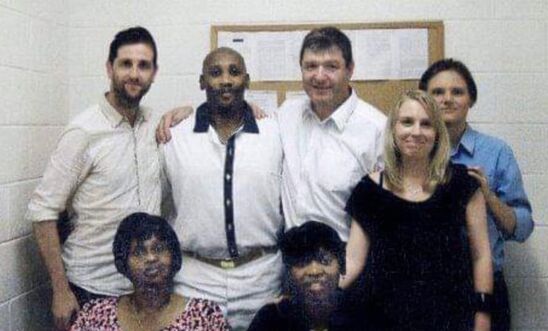 Blog by Kim Manning-Cooper – Ten years since the execution of Troy Davis: remembering the campaign to stop his execution
Kim Manning-Cooper is an activist against the death penalty and former amnesty campaign manager
The 21st of September is a date that amnesty activists across the world will be familiar with. This year, the date has extra significance. It's the tenth anniversary of the execution of Troy Anthony Davis, killed in Georgia, USA, despite significant doubts about his conviction. Of course, Amnesty International opposes the death penalty in all circumstances, regardless of innocence or guilt. But proponents of the death penalty should be incredibly troubled by what took place in the Georgia Diagnostics and Classifications Prison ten years ago.
Troy Davis was arrested in 1989 for the murder of Mark Allen MacPhail, an off duty police officer who was brutally murdered in Savannah, Georgia. In 1991, Troy was sentenced to death. Over the next 20 years, Troy continually maintained his innocence, his family campaigning to save his life.
By the time the US Supreme Court ordered an evidentiary hearing to be held in 2010, seven of the nine prosecution witnesses on whose testimony Troy had been convicted had recanted or changed their testimony, with many reporting police coercion and other questionable techniques which were deployed to make them testify against Troy. There was no physical evidence which tied Troy to the crime and no ballistics. I was in the courtroom in the summer of 2010 to hear those recantations first hand. I'd already spent time with the Davis family, with Troy, and was sure of his innocence. What happened in the court room that day simply cemented that view; that Troy was not responsible for the tragic murder of Officer MacPhail.
The evidentiary hearing had been ordered to see whether 'evidence that could not be obtained at the time of the trial clearly  establishes petitioner's innocence'. The bar was set so high, making it almost impossible for Troy to secure any relief. I heard witness after witness recant their testimony – my heart broke as I saw Daryl 'DD' Collins, Troy's friend from his childhood, describe how he was pressured by police to testify against Troy. The look in DDs eyes was of a man who knew he needed to make the court aware of exactly what happened that night. Troy was innocent.
Despite the judge ruling that the case against Troy was 'not ironclad' the state executed him on 21st September 2011, amidst a global outcry. This was arguably the springboard for the Black Lives Matter movement – the links between Troy's case and lynching were there for all to see. Young black men might no longer be publicly lynched – instead they were being strapped down to gurneys and killed in execution chambers or killed on the streets with seeming impunity. The world looked on in horror. Had Georgia taken the life of an innocent man? I believe they did.
My good friend Laura Moye was outside the prison the night Troy was killed -  she had led the global campaign to save his life, along with Wende Gozan Brown and the Davis family; and together with Amnesty sections around the world, we'd fought a long, hard battle. Laura called Troy's execution a human rights travesty – those words will never leave me. This was a travesty not only for the Davis family but also the MacPhail family – justice was not served or advanced in any way that night. The cycle of violence continued, and another family was left grieving.
Just a few months later, Troy's sister, Martina, passed away, having fought her own battle against breast cancer for many years. In April of the same year, Troy's mom, the family matriarch, sat down in her chair in her Savannah home, went to sleep and didn't wake up. Just a few weeks earlier, she'd gotten a clean bill of health from her doctor. Ms. Virginia died just a few weeks after the US Supreme Court had rejected Troy's final appeal, paving the way for his execution date to be set. Martina said her mom died of a broken heart, unable to stand the pain of seeing her son killed.
Tonight, we remember Troy, Martina and Virginia Davis, and we recommit our efforts to working to end the death penalty. Troy tasked his friends and family with continuing the fight, and that is what we will do. 
Please join us at 7pm where I'll be in conversation with Troy's nephew De'Jaun, Laura Moye, Richard Hughes from the band Keane who visited Troy on death row, and Ed Pilkington, Chief Reporter for the Guardian US.
Troy Anthony Davis, 9th October 1968 – 21st September 2011.
About Amnesty UK Blogs
Our blogs are written by Amnesty International staff, volunteers and other interested individuals, to encourage debate around human rights issues. They do not necessarily represent the views of Amnesty International.
View latest posts