The Tadamon Massacre - Six Minutes that Shocked a Nation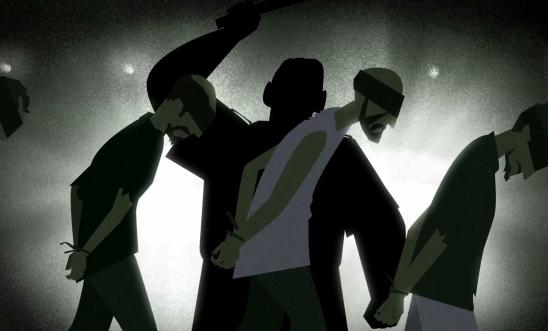 © © Cesare Davolio/Amnesty International
By Mansour Omari 
I'm recovering from a stroke. My doctors said they didn't know the cause, but undoubtedly the stresses of surviving Assad's torture machine and continuing to campaign for justice are contributing factors. The doctors told me to avoid anything stressful for many weeks - a problematic proposition in my line of work.
When a leaked video of a horrific massacre committed in 2013 by Assad regime officials came out on 28 April, I tried to avoid watching it or writing about it. This was impossible. The killings occurred in an area close to where I lived in Damascus. I had to watch it to check if I recognised any victims. This was a real horror film. I wanted to look away but instead watched the gruesome footage repeatedly, freezing the frames to try to identify anyone I knew.
I've watched and analysed hundreds of videos of atrocities in Syria, yet this one is different. The inhumanity and brutality, the cold-blooded murders, the innocence of the victims, the smiles, jokes and deception by the perpetrators - all in just six minutes of video - are far from what I watched before. The way a human being could commit such horrific crimes in such a cold industrial way was even startling for me. I read and studied how humanity can be brutal. I lived it for myself in Assad's torture chambers, but this video of a massacre in high definition shook me. 
Assad regime officials shot 41 blindfolded, handcuffed men into a pit. Their bodies were set on fire - some were possibly still alive, already in agony from being shot and falling into the death pit. They were set on fire with nowhere to run to and nobody to help them.
This massacre was revealed thanks to Ugur Umit Ungor, Professor at Amsterdam University and the NIOD Institute for War, Holocaust and Genocide Studies, and the agonising work of Annsar Shahhoud, an academic researcher. Professor Ugur told me that in February, they handed over the entire dossier of their investigation to the Dutch, German and French police, including the Tadamon Massacre video and an additional 26 videos that show the killing of 288 civilians, including seven women and 12 children. More horrors are still to come out of Assad's ongoing dirty war against Syria's civilian population.
On 27 April, The Guardian published the Tadamon massacre video but with most of the graphic content obscured. If I were one of the victims, I would want the world to see this video in all its horrendous detail. It saddens me that only a few media outlets reported the massacre. 
Almost every Syrian I know expressed their anger and sadness on social media. Not just at the massacre and the ongoing impunity but the relative silence from the so-called international community. Even Assad loyalists spoke about it, denying it or accusing The Guardian of fake news. 
On 9 May, Syrian humanitarian, human rights, and civil society organisations sent a letter to members of the Security Council demanding a meeting at the Council to address the Tadamon massacre and launch an independent investigation.
Watching the video, I remembered when I was detained in Mezzeh Military Airport for my work documenting mass atrocities for the Syrian Center for Media and Freedom of Expression in Damascus. I couldn't stop thinking that I could have so easily been among those killed and burned in that video.
In March 2012, when Assad's guards made us kneel, handcuffed and blindfolded to move us out of Damascus's Air Force Intelligence detention centre to the buses outside, the officers ordered us to tell them our last wishes because they were going to "execute us." One officer shouted: "When I hit you in the head, you say your wish."
One of my colleagues said: "I want to say goodbye to my mother." Then they hit me and asked, "And you?" I said: "I hope that we live like brothers in harmony in this country." The officer replied scornfully, "there's no honour in us being brothers."
If I were among the victims of the Tadamon massacre, I would undoubtedly have wanted the whole world to watch the full video. I would have wanted people to witness the crime committed against me and see my last minutes and the horror and terror I lived under Assad's executioners before my death. I would not have wanted to die unnoticed.
I would not have wanted anyone to blur my face or censor the video of my death. My last wish would have been: to witness my killing and hold my killer to account. I understand the sensitivities of such graphic content; these are just my wishes. I believe there is a substantial public interest in knowing what this despicable regime is doing. There is a much-needed benefit for people of Syria, especially families, to watch the videos to look for their disappeared, missing and detained loved ones. 
A few days after The Guardian article, the full unedited video started to be shared amongst activists and families of the disappeared. Families began to identify their loved ones. The first victim to be recognised and confirmed by his family was Wasim Siyam, a Syrian-Palestinian baker from Yarmouk camp in Damascus, married with two daughters. 
Wasim's mother described her agony trying to find her disappeared son: "When I lost hope in searching, I said time will tell, and God will help us." She added that she will never forget the last time she saw him and that the scene of him leaving home "is in front of me, I will not forget till the day I die." Wasim's father said: "I want justice for our loved ones."
I was detained for 356 days by Assad's regime. Not one day passed without me being tortured or fearing for my life that the jailors may kill me by beating or shooting me at any minute. I survived, but tens of thousands did not. We must not let them be erased from history. Everyone had a name, a life, and a family. They all deserve justice.
Mansour Omari is a Syrian human rights defender. He holds a Master of Laws in Transitional Justice and Conflict. Omari works with international and Syrian human rights organisations to hold the perpetrators of international crimes in Syria accountable. In 2012, Omari was detained and tortured by the Syrian government for 356 days for documenting its atrocities while working with the Syrian Center for Media and Freedom of Expression as the supervisor of the Detainees Office.
About Amnesty UK Blogs
Our blogs are written by Amnesty International staff, volunteers and other interested individuals, to encourage debate around human rights issues. They do not necessarily represent the views of Amnesty International.
View latest posts