Is the Refugee Family Reunion Bill being blocked by the Government?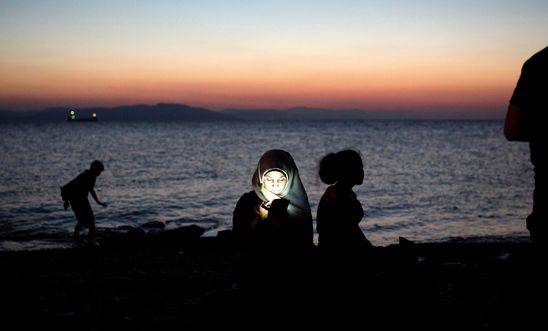 A migrant woman checking her phone after crossing the sea between Turkey and Greece © ANGELOS TZORTZINIS/AFP/Getty Images
In 2018, MPs voted overwhelmingly to support a Bill to change the restrictive Home Office rules which keep many refugee families separated from those they love.
131 MPs turned up to parliament on a Friday – a day MPs are usually in their constituencies – to support Angus MacNeil MP's Refugee Family Reunion Bill. The Government lost the vote by 3-1, leading to clapping and cheering in the viewing gallery – so much so, that I lost count of the number of (unsuccessful) times the security guard attempted to maintain silence.
It was a significant victory. Supporters of the Families Together coalition had worked tirelessly for months to encourage their MPs to attend and support the Bill. As a result, the Bill has now passed its Second Reading and could move on to the next stage.
While we were all celebrating the win, there were others in Parliament that day that this win would have a huge impact on. Yohannes, a 19-year-old refugee from Eritrea, who was in parliament on the day, described what it meant to him:
"I'm so happy that MPs are helping to bring refugee families together. I came to the UK as a child refugee and three years on, I'm still living here alone, while my sister is stuck in a camp in Ethiopia. The camp isn't safe and she is a girl on her own - I am scared she might be hurt. I'm studying and working right now, but it's hard to think about the future when I'm so worried about my little sister."
Just like our own children, young refugees need their families around them to thrive.
"I hope the government will now listen and change the rules, so my sister can join me here in safety."
Sadly, not only has the government not changed the rules, something the Home Secretary could do with the strike of a pen, the government is also preventing the Bill from progressing by digging its heels in.
They are doing this in two ways:
Firstly, in order for the Bill to progress, the government needs to provide a 'Money Resolution' – an estimation of how much money would need to be spent if the Bill passed. According to Parliament's own website, 'money resolutions… are normally put to the House for agreement immediately after the Bill has passed its second reading in the Commons.' But six months on, this has still not happened.
Secondly, the government has only announced two more sitting Fridays, the only days Private Members Bills are debated, between now and the end of this parliamentary calendar. The Leader of the House, Andrea Leadsom MP, has said more will be announced, but this is yet to happen and therefore risks this Bill, and other Private Members Bill, running out of time.
Being with family can be one of the most wonderful things in the world. Even the everyday moments should be cherished and celebrated. Yet this is exactly what the government is denying many refugee families in the UK. For child refugees to be denied the right to sponsor their close family, or parents to have to leave behind their children, just because they have turned 18, is beyond cruel. And this separation is having a devastating impact on those affected.
Amnesty International and our partners are committed to changing these rules so that more refugee families can be reunited in the UK, please join us in doing so by calling on the Home Secretary to change the rules.
Also, to draw attention to issue, we are creating the UK Biggest Family Photo Album. We will be delivering it to the Home Secretary next month, in the form of a giant photo album.
To show the Home Secretary that the UK believes in keeping families together, please add a photo of your family now!
About Amnesty UK Blogs
Our blogs are written by Amnesty International staff, volunteers and other interested individuals, to encourage debate around human rights issues. They do not necessarily represent the views of Amnesty International.
View latest posts