A moment to celebrate the undeniable wonder of family life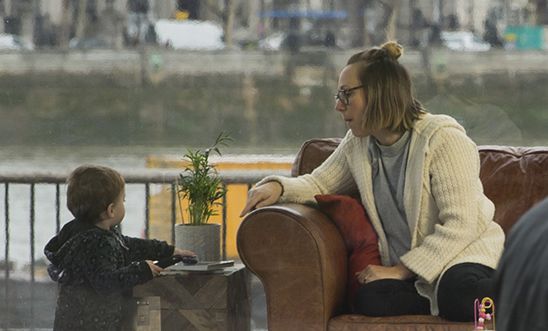 Half-term kicks off tomorrow with the Bank Holiday weekend and I, along with many others across the country, will be spending it with my family. It's an opportunity to celebrate the undeniable wonder of family life. The everyday things we may take for granted, like a sharing a meal, playing a game of cards, or even just curling up on the sofa in front of the telly are actually incredible moments to cherish and celebrate.
For some of us it can be hard to think of family, without thinking of those loved ones we have lost - in my case my mother to cancer. There are also those we may have become separated from and long to be reunited with.
This separation is surely made all the more difficult if what is keeping you apart from your loved ones are unfair government rules.
Take the issue of refugee family reunion. The UK's family reunion rules enable many families who have been separated by conflict, persecution, or their journey to find safety. But there are also many refugee families who are separated by cruel restrictions in these rules. Children being denied the right to sponsor their loved ones being a case in point. This separation is having a devastating impact on those affected.
Bringing Families Together
That's why we're working with partners, the Refugee Council, UNHCR, Oxfam and the British Red Cross, set up the Families Together campaign. Support for the campaign has grown and now includes 20 different organisations and parliamentary support from across the political spectrum.
Indeed in March this year, 131 MPs turned up to support a private members bill in the House of Commons (link to), introduced by Angus MacNeil MP, which would change these restrictive rules. Considering many MPs are rarely in parliament on a Friday, a day usually spent in constituencies, this was no mean feat. It was only the fourth time Tim Farron MP had been in parliament on a Friday ( ), such was the strength of feeling about the Bill.
The Chair of the parliamentary group on Refugees acknowledged the 'team' behind this bill of refugees and refugee supporting organisations. This includes supporters of those organisations strongly encouraging their MPs to attend, in letters, emails, tweets and face to face meetings.
But it hasn't stopped there.
The Lords are also pressing for these unfair rules to be changed. Baroness Hamwee, is also trying to pass a law through the House of Lords right now. Today this Bill is one step closer to becoming law; it will now move to its Third Reading in the House of Lords.
Speaking on behalf of the government, at the recent Committee Stage, The Minister of State for the Home Office, Baroness Williams of Trafford stated that refugees—who have made their home here over generations have always been and will continue to be welcome. She also said that 'The Government take extremely seriously the principle of family unity for refugees in the UK who have fled persecution and need our protection'.
The Government can demonstrate this by expanding the family reunion rules, so that more refugee families can be together. The new Home Secretary has the power make this change with the strike of a pen. Parliamentarians can make this change by ensuring the Family Reunion Bill passes to become law.
Time for the Home Office to help bring families together
We can all play a role by making sure this issue gets the political attention it deserves and not resting until refugees can again celebrate the wonder of family life, in safety, in the UK.
It's clear from the strength of feeling over the Windrush scandal, that many people want the Home Office to act with more humanity. The new Home Secretary has committed to do whatever it takes to put it right - allowing more refugee families to reunite should be high up on the list.
About Amnesty UK Blogs
Our blogs are written by Amnesty International staff, volunteers and other interested individuals, to encourage debate around human rights issues. They do not necessarily represent the views of Amnesty International.
View latest posts