10 human rights stories you may have missed during lockdown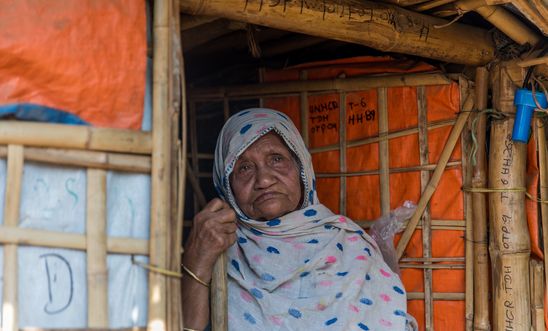 Sokhina Khatun, a Rohingya woman around 90 years old, stands for a portrait in her shelter in Camp #1 East (Kutupalong Camp), Bangladesh, 19 February 2019 © Reza Shahriar Rahman
We published a first version of this blog in April. This new post covers 10 human rights developments which took place in May and June 2020. It is of course non-exhaustive. 
1. Nigeria: children are the first victims of the conflict between Boko Haram and the military 
In May Amnesty published a new report looking at the impact on children of the ongoing conflict between Boko Haram and the military in Northeast Nigeria. The report reveals the many crimes committed by both sides of the conflict, with devastating immediate and long-term consequences. Boko Haram has abducted thousands of kids, often forcing the boys to be child soldiers and the girls to be child "wives", victims of rape and other sexual violence. The case of the "Chibok girls", 276 schoolgirls kidnapped by Boko Haram 6 years ago (and 112 still  missing) has been one of the most prominent ones but is far from being an isolated case. But the military's treatment of those who escape such brutality has also been appalling. From mass, unlawful detention in inhumane conditions, to meting out beatings and torture and allowing sexual abuse by adult inmates – it defies belief that children anywhere would be so grievously harmed by the very authorities charged with their protection. We are calling on the Nigerian government to release all children held in detention facilities in the region.



Displaced children unable to access education in Dalori 1 IDP camp outside Maiduguri, Borno State. 

© Mohammed Abdulsamad / The Walking Paradox 
2. USA: Pentagon report underestimates civilian casualties killed by US strikes 
In early May, the US published its annual report on civilian casualties caused by US military operations around the globe. According to the Pentagon, American operations killed 130 civilians and injured 91 others in Iraq, Syria, Afghanistan and Somalia in 2019. These numbers suggest that the Pentagon is still undercounting civilian casualties, and has dismissed the hundreds of civilian casualties documented by human rights groups such as Amnesty in Syria and Somalia. While these reports can be a great tool towards more justice and accountability, their lack of transparency has so far left them meaningless. Amnesty will keep campaigning for thorough and independent investigations to uncover the true scale of civilian casualties caused by US strikes.
3. South Korea: Crackdown on the LGBTQI community 
In South Korea,  LGBTQI people have been faced with increased threats and discrimination amid the COVID-19 crisis, with the community being falsely accused of spreading the virus, fomenting anti-LGBTQI sentiment in the country. The number of coronavirus cases started rising again after restrictions were relaxed at the beginning of May. LGBTQI people were rapidly scapegoated following media reports that new cases originated from a club in Seoul's gay area. This hostility is sadly not new, and the community is routinely targeted by harassment and online abuse, a situation the government has failed to seriously tackle. Members of the community have reported feeling anxious and even suicidal about their sexuality being revealed to their families because of the "trace and test" approach currently implemented to deal with the pandemic. The government needs to ensure human rights are respected even in times of crisis, and that include the privacy rights of those at higher risk of being discriminated against.
4. Bangladesh: the first Rohingya refugee dies of COVID-19
A 71-year old man became the first Rohingya refugee to die of COVID-19 in Bangladesh in early June, three weeks after the virus was first spotted in one of the overcrowded camps in the Southern part of the country. In April, Amnesty warned that older Rohingya refugees had been left behind in the humanitarian response to coronavirus - most older people we interviewed during our research had received little specific information about the virus and how to protect themselves. An ongoing campaign of ethnic cleansing perpetrated by the military has forced more than 860,000 Rohingyas, who are predominantly Muslims in a Buddhist majority country, to flee Myanmar since August 2017. According to the UN Refugee Agency, there are more than 31,500 refugees aged 60 or older in the camps in Bangladesh. Amnesty has called on the authorities to allow the free flow of information so that Rohingya are fully aware of measures to respond to the pandemic. 
5. China: Uyghurs unlawfully detained in re-education camps at risk of COVID-19
Since 2017, China has been detaining Uyghurs, Kazakhs and other mostly Muslim minorities in so-called "transformation through education" camps in the Xinjiang region. The Chinese authorities have systematically denied requests by human rights groups and the UN to access the area to verify reports of arbitrary detention, but it is estimated that close to one million or more people have been held in these re-education centres, whose existence is a flagrant violation of international law. Relatives of disappeared or interned Uyghurs and human rights activists have raised concerns about the overcrowded and unhygienic conditions in the camps, putting them at higher risk of catching coronavirus. Amnesty has been collecting hundreds of testimonies of Uyghurs and other Muslim minority groups who have left China but continue to be harassed and intimidated by the authorities.
Murat Harri Uyghur, a Finnish citizen, lost contact with his father, Seytiniyaz Ghupur, and mother, Göherxan Tömür, both 57 years old, in March 2017. During their last conversation, his mother said local officials in Turpan City confiscated their passports while questioning them on how many people were in their family, their names and where they were. Copyright: private.
6. Qatar: Migrant workers unpaid for months of work on FIFA World Cup stadium  
Migrant workers employed on a construction project for a FIFA World Cup stadium in Qatar worked for up to seven months without pay. Around 100 employees of Qatar Meta Coats (QMC), a design and construction company subcontracted for façade works on the €770m Al Bayt Stadium, are still waiting to be paid their full dues. They are extremely worried about their families, who rely on the money they send home from Qatar to pay school fees and medical bills. After Amnesty International raised the case with the Qatari authorities and FIFA, as well as the World Cup organising body, some employees began to receive part of what they are owed, but still have outstanding unpaid salaries. Although Qatar announced several new reforms to improve protection for migrant workers, who make up 90% of the country's workforce, the weak implementation means that migrants generally remain unprotected from labour abuse and exploitation. Earlier this year, dozens of migrant workers were rounded up in overcrowded cells and expelled from the country after being told by authorities that they were being taken to be tested for COVID-19. 
Illustration by 

Cesare Davolio
7. Hong-Kong: new Chinese security law threatens freedom of expression 
In May, China took the decision to impose new national security legislation in Hong Kong without providing its people the chance to debate it. This new law is part of China's plan to sideline Hong Kong's own legislature by directly outlawing acts of "separatism", "subversion" and "terrorism". It is still being drafted by the National People's Congress (China's highest institution), but could come into force as early as the end of June. It will inevitably lead to further human rights violations in Hong Kong: one simply needs to look at how China abuses its own national security law for a terrifying glimpse into Hong Kong's future. The new definition of national security will be virtually limitless, and covering wide areas including politics, culture, finance, the internet and "other major interests of the state". In China, "anti-separatism" campaigns have led to the imprisonment of Muslim-minorities in the Xinjiang region and of human rights defenders in Tibetan-populated areas. "Inciting subversion of state power" is a catch-all charge often used against dissidents and activists who speak out against the government. Last year, millions of people took the streets of Hong Kong to protest against the Extradition Bill, resulting in its withdrawal. Protesters are once again taking the streets to protect their rights. Amnesty is calling on the Chinese authorities to immediately give up on the new security law - please add your name to the petition here.
8. DRC: Cobalt miners children suffering from birth defects
New academic research released in May has shown that people in the Democratic Republic of Congo (DRC) are being exposed to dangerous levels of toxic pollution causing birth defects in their children, including limb abnormalities and cleft palates. Cobalt is mainly used to produce rechargeable batteries for laptops and smartphones, and the DRC represents 60% of the global cobalt market. Men, women and children working in cobalt mines lack even the most basic protective equipment such as gloves and face masks. They cannot escape the dust and have reported coughing, pain in their lungs and urine infections. These new findings on birth defects demonstrate the need for greater regulation of the mining sector to enforce environmental and worker protections, an issue Amnesty is actively campaigning on. Both the state and multinational companies profiting from these activities need to protect local communities as well as offer them remedies for past abuses. 
Women and children washing mineral, March 2017 © Amnesty International/Afrewatch
9. Israel/Occupied Palestinian Territories: illegal annexation of the occupied West Bank may begin as early as July 1st 
In a complete disregard for international law, the Israeli government has said that it will start annexing parts or all of the occupied West Bank as of the 1st of July, in line with what was announced as part of Trump's "Deal of the Century" in January. Not only is such a move unlawful, it will gravely worsen an already dire human rights situation on the ground. On Saturday the 30th of May, Israeli forces opened fire on a severely autistic Palestinian man who was on his way to a special needs school in occupied East Jerusalem, where he lived with his family. Israel's Defence Minister, Benny Gantz, apologised for what happened and added that he is "sure the issue will be investigated quickly and conclusions will be drawn". This is nothing more than a PR move and we know from history that when it comes to Palestinian lives there is no accountability for Israeli forces, whose extrajudicial killings of unarmed Palestinians have been well documented over the years. More than ever, the international community needs to ensure there are consequences to Israel's breaches of international law and human rights violations. A group of 47 UN experts recently urged all states to work together to put an end to this impunity by using the broad range of accountability measures available. We will keep calling on the UK government to ban settlement goods from UK markets and prevent UK companies from trading and operating in settlements. These are urgently needed first steps to prevent further human rights abuses against Palestinians. 
10. US: Trump's sanctions on the International Criminal Court threatens its independence 
On the 11th of June, US President Trump announced unprecedented sanctions against the International Criminal Court (ICC) and its officials, lawyers and investigators. This follows a decision by the court in March to authorise an investigation into alleged war crimes committed in Afghanistan a decade ago. In his statement, Trump called the ICC investigation "a national emergency" and "a threat". The sanctions include the seizure of US property of the designated ICC staff, as well as visa restrictions of such individuals and their family members. An ICC investigation into possible war crimes is crucial in the fight for justice for victims of the Afghanistan conflict, and it already took far too long to start. Over the past 15 years Amnesty has repeatedly raised concerns about crimes and serious human rights violations in Afghanistan, including unlawful killings, torture and arbitrary detention, committed by all parties to the conflict, including the US and coalition allies. The ICC responded to the sanctions saying that they constitute "an unacceptable attempt to interfere with the rule of law and the Court's judicial proceedings". States which are committed to international law and human rights, including the UK, should publicly support the court and protect its independence.
Rebecca Nguyen Van Thuy is AIUK's Crisis campaigner, she tweets @RebNVT 
About Amnesty UK Blogs
Our blogs are written by Amnesty International staff, volunteers and other interested individuals, to encourage debate around human rights issues. They do not necessarily represent the views of Amnesty International.
View latest posts