Afghanistan: ICC war crimes request offers 'last chance for justice'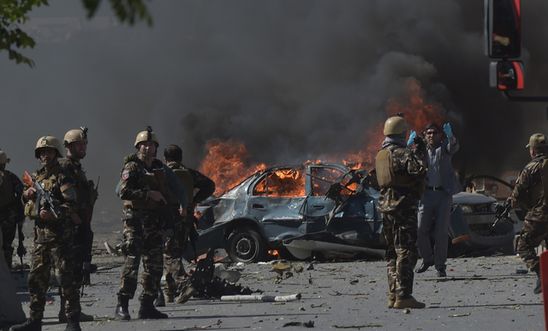 Afghanistan has seen years of attacks on civilians © SHAH MARAI/AFP/Getty
'This is a seminal moment for the ICC' -  Solomon Sacco
Amnesty International has welcomed the news that the prosecutor of the International Criminal Court, Fatou Bensouda, has said today she would seek approval to open a formal investigation into allegations of war crimes in Afghanistan, in a case that could examine the role of US forces abroad.
In a statement Ms Bensouda that there is a "reasonable basis to believe" war crimes and crimes against humanity were committed and that all sides in the conflict would be examined.
The prosecutor will focus on crimes allegedly committed since May 2003 on the territory of Afghanistan, and war crimes closely linked to the situation in Afghanistan allegedly committed since July 2002 on the territory of other states.
Responding to today's news, Amnesty International's Head of International Justice Solomon Sacco said: 
"This is a seminal moment for the ICC.

"Justice for victims of the Afghanistan conflict has taken far too long to arrive, but investigations like this one are the reason the Court was set up - to provide a last chance for justice when states parties have failed to deliver it. 

"The Prosecutor's decision to request the opening of an investigation into all sides and parties to the conflict is an important step towards holding accountable those responsible for crimes under international law committed in Afghanistan since 2003, and to providing truth, justice and reparation for the victims. 

"The political and logistical challenges facing the Court are enormous. The world's major powers and other ICC states parties have interests in Afghanistan, and their nationals may be investigated by the Court. 

"The ICC will be reliant on its member states to meet the challenges of this investigation. These states will need to staunchly defend the Court by providing it with adequate security and resources in Afghanistan and cooperating with its investigations, including in relocating witnesses."
Unlawful killings, torture and arbitrary detention
Over the past 12 years, Amnesty has repeatedly raised concerns about alleged crimes under international law and other serious violations and abuses of human rights law in Afghanistan, including unlawful killings, torture and arbitrary detention – committed by all parties to the conflict. This includes attacks directed against civilians by the Taliban and its allies, as well as torture and other ill-treatment allegedly committed by the Afghan government forces and its US and coalition allies.