Why the UK needs to challenge Israel's plans to annex the West Bank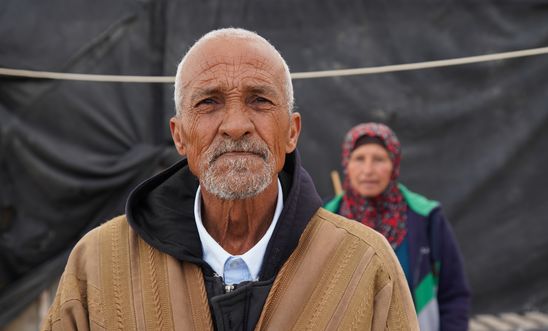 A Palestinian man and his wife in the village of Susiya, in the occupied West Bank in February 2020. Years ago the family was displaced to make way for a new illegal Israeli settlement. © Fadi Abou Akleh
Trump's dismal deal
Since the April 2019 elections and until recently, Israeli Prime Minister Netanyahu and his main rival Benny Gantz had been unable to form a governing coalition, leaving Israeli politics in an unprecedented stalemate. Faced with the possibility of a fourth election after three failed rounds, Netanyahu and Gantz did end up agreeing on a unity deal on the 20 April. According to their agreement, the Israeli government would be able to formally annex all Israeli settlements in the occupied West Bank and the Jordan Valley as early as 1 July 2020. This is in line with what was announced in the dismal "Deal of the Century" released by the Trump administration earlier this year. 
Unlawful annexation
Annexation means that those areas that are recognised as occupied according to international law would formally be brought under Israel's sovereignty. International law is very clear on the issue: annexation is unlawful. Unfortunately, history has shown us that this won't be enough to dissuade the Israeli government from going ahead with their plan. In 1967, Israel de-facto annexed East Jerusalem after the six-day war, before making the annexation official  in 1980.  Israel also annexed Syria's Golan Heights in 1981. Since 1967, Israel has built hundreds of illegal settlements across the occupied West Bank (including in East Jerusalem). Today more than 620,000 Israeli settlers live in the occupied Palestinian territories (oPt) in gated cities connected by settler-only roads. This policy of settling civilians in occupied Palestinian territories and displacing the local population contravenes fundamental rules of international humanitarian law.
Settlements rooted in human rights abuses
The maintenance and expansion of settlements are at the root of institutionalised discrimination and systemic human rights violations against Palestinian communities. Amnesty has been documenting these abuses for years: Palestinians are being denied their right to freedom of movement and freedom of assembly, their natural resources are being stolen for the sole benefit of Israeli settlers living on occupied land, while Israel refuses to connect many Palestinian villages to water and sewage systems and electricity networks. During a one-week mission to Israel and the occupied Palestinian territories in February 2020, a delegation of Amnesty UK staff were able to witness first hand the way settlements infringe on Palestinian human rights. We spoke to many Palestinians living close to illegal settlements, sometimes merely separated by barbed wire. They told us about the frequent attacks from settlers on their homes and cattle, the  harassment from Israeli authorities and the constant threat of house demolitions to make way for new settlement housing, 
Kate Allen, Amnesty UK's Director, and a Palestinian man in the village of Umm al-Khair in the occupied West Bank, February 2020. The tin shacks and tents of the village, which is not connected to electricity or water, contrast sharply with the modern houses of the illegal settlement in the background. Barbed wire has been installed to keep Palestinians away from their own land. Photo credit: Fadi Abou Akleh 
The UK must not support a breach of international law
In the case of a serious breach of international law, states have a responsibility to cooperate to bring this breach to an end through lawful means, as well as a duty not to recognise as lawful the situation created by such a breach, and not to aid or assist in its maintenance. The concerted measures taken by EU member states in response to Russia's illegal annexation of Crimea and Savastopol in March 2014 present a clear and compelling precedent for the implementation of these international duties. The UK government not only publicly condemned the illegal annexation, it also expressed its commitment to apply tangible measures against Russia in response to it. 
Settlement expansion must be condemned
When it comes to Israel and the occupied Palestinian territories though, the government's language has been significantly more muted. The Middle East minister recently reiterated that the UK government "would not support" any annexation move from Israel, while in January the Foreign Secretary expressed "concern". The UK government also routinely condemns settlement expansion every time Israel announces the construction of new settlement housing units. But public statements of condemnation are of course not enough to deter Israel from breaching international law - and concrete action from the international community is urgently needed. As the UN Special Rapporteur on human rights in the occupied Palestinian territory recently said: "There has to be a cost to the defiance of international law". 
Two urgent measures the UK must take
There are two key steps that the UK government should be taking to prevent settlement expansion and stop Israel's move to formally annex parts of the West Bank: the UK should be banning settlement goods from UK markets, and preventing UK companies from operating in/trading with the settlements. Three UK firms have been named in the UN database of companies involved in settlement-related activities - JCB, Opodo and Greenkote - and as a first step the UK should ensure that they immediately end their business ties with settlements. These measures are urgently needed to close the gap between the UK's statements of condemnation and lack of action, to protect the international legal order and to prevent further violations of human rights against Palestinian communities in the oPt.
Rebecca Nguyen is AIUK's Crisis campaigner. She tweets at @Reb_NVT  
About Amnesty UK Blogs
Our blogs are written by Amnesty International staff, volunteers and other interested individuals, to encourage debate around human rights issues. They do not necessarily represent the views of Amnesty International.
View latest posts