Annual General Meeting 2022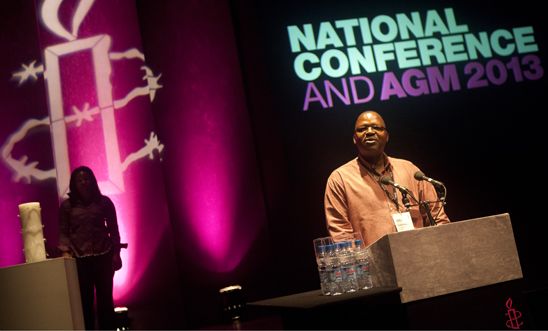 © Katura Jensen
2022 Annual General Meeting of Amnesty International United Kingdom Section
We're excited to welcome you to our 2022 AGM next month! On this webpage you can find all the important information you'll need to participate, as well as contact details for if you have any questions. At the bottom of this page are lots of documents for this year's AGM, as well as decisions from previous years. We'll keep adding to this list over the next few weeks, so please do keep your eye out.
This year's Annual General Meeting (AGM) will be held as a hybrid meeting on Saturday 25 June 2022 from 10:00 to 18:00 at the Human Rights Action Centre (HRAC) in London at 17-25 New Inn Yard, London EC2A 3EA.
Members will also be able to access the meeting online.
Participating in the meeting
Subject to UK Covid-19 regulations and government guidance, members may attend in person or online. Information on how to join the meeting online can be found in the Chair's letter which will be sent to all members on 6 May 2022.
In the event that government guidance on social distancing and gatherings means that it is not possible to hold an in-person meeting, the AGM will take place online. Due to Covid-19 restrictions at the HRAC, we will be asking those who can, to join virtually as there will be a limited number of spaces available to join in person. Members planning to attend the HRAC are requested to register their attendance here so we can contact you in the event of any last-minute venue changes and to ensure we have adequate space at the HRAC to allow for social distancing.
The business of the AGM will be to:
1. receive the report of the Directors and audited accounts for the year ended 31 December 2021;
2. receive and, if thought fit, adopt the report of the standing orders committee;
3. consider and, if thought fit, pass the resolutions printed below, which shall be proposed as Special and Ordinary Resolutions;
4. receive the report of the Nominations Committee;
5. approve the re-appointment of BDO LLP as external auditors and authorise the Directors to approve their remuneration;
6. receive the budgetary estimates of the Directors for the current and ensuing financial periods; and
7. if an election is required, to elect the AGM Chair for 2023, members of the Standing Orders Committee and Members of the Members and Directors Appeal Committee.
Voting
All AIUK Section members are entitled to attend and vote at the AGM. A member of AIUK Section is also entitled to appoint a proxy to attend, speak and vote on their behalf . A proxy need not also be a member of AIUK Section.
Nominate a proxy
A form to nominate a proxy and to vote on the AGM resolutions will be added to this website in May and will be posted to members that have elected to receive a paper copy of the AGM pack. If you prefer to submit your proxy form and vote online, please go to www.amnesty.org.uk/vote. You will need to enter your Voter Reference Number and PIN which is contained in the Chair letter which will be sent to members in May. Completed forms must be returned by the means set out in the proxy form, and arrive no later than 09:00 Thursday 23 June 2022.
Submit a resolution
Want to submit a resolution? Download a resolution submission form here.
More info coming soon
Please keep an eye out for more information on the following:
How to vote in the AGM
How to vote in the Board ballot
A guide to attending the online meeting
A list of AGM speakers and agenda
AIUK Section Accounts which will be published in June 2022
Save the date: practice run for online attendees
On Thursday 16 June between 18:00-19:00, we are holding a practice run to give you an opportunity to practice logging into the online AGM. The IT Team will be available to assist with any technical issue and answer any questions you have regarding joining the virtual meeting. Further information coming soon.
Find information on the Board Ballot here
If you have any questions regarding the AGM please email: agm@amnesty.org.uk
Shape how we work
We regularly have opportunities for volunteers to shape how we are run as an organisation and help to ensure that we are doing the best work we can to protect human rights. If you are interested in playing a vital role in our democracy by serving on the Standing Orders Committee, Members and Directors Appeal Committee, Returning Officer or AGM Chair find out more here. 
You can also find the previous AGM decisions from 2017-2021 immediately below:
Downloads