Journalist and family deported from Norway to Albania - despite risk to their lives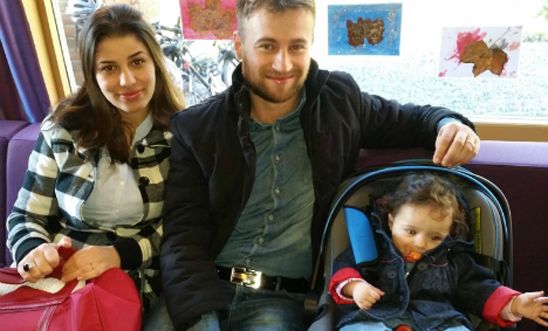 Genci Angjellari is an investigative journalist. In November 2014 he was exploring alleged links between the Albanian mafia, business and politicians when two men on a motorbike attacked him. They punched him, held a knife to his throat and told him to stop his work.
The next day Genci's wife Fatjona was also approached by two men on a motorbike. They threatened to rape her, and told her they would kill her husband and daughter if he did not stop 'playing with fire'. Days later the family fled to Norway.
Seeking asylum in Norway
The couple have been in Norway with their young daughter for nearly a year, going through the asylum process. But despite the Norwegian Immigration Appeals Board finding the family's account credible, it has ruled that the family can safely be returned to Albania and seek police protection there – police protection that they have already asked for and been denied.
On 30 October their application was rejected by the Norwegian authorities. While they can appeal the decision, the Norwegian authorities do not have to wait until this is processed before implementing a deportation order.
This means that the family are at serious risk of being forced back into a dangerous situation. Any day now they could be deported to Albania where they face intimidation, harassment or even death.
Following their unsuccessful appeal, Amnesty International remains in touch with the family.
A dangerous job – being a journalist in Albania
Genci Angjellari is not alone – investigative journalists in Albania are regularly threatened as a result of their work. They can be targeted by the state, politicians, business leaders and people thought to be members of the mafia.
Reporting on allegations of corruption or the activities of business or organised crime has resulted in journalists being violently attacked or harassed by members of the Albanian police force.
In December last year, Genci's colleague was shot at. Around the same time, another journalist is believed to have been the target of a bomb attack. While no journalist has yet been killed, the threat is such that around 14 have left Albania in the past year, on the basis that the state is unable to protect them.
Only one journalist has been given police protection by the Albanian police force to date. They were investigating the recruitment of Albanians to ISIS and had received threats over Facebook believed to come from a member of the terrorist organisation. Those investigating corruption have not been provided with such protection.