National Conference and AGM 2018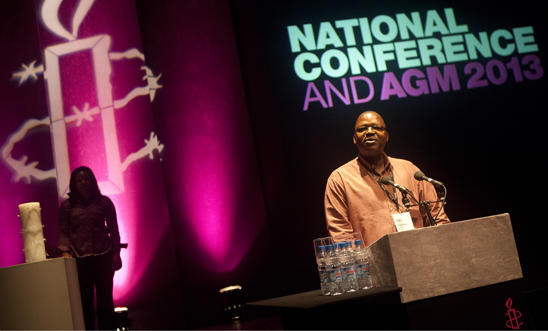 © Katura Jensen
Next year's AGM will take place over the weekend of 7-8 April 2018. Register today to attend.
About our Annual General Meetings
Our National Conference and Annual General Meeting brings together Amnesty members from around the UK. It usually takes place over two days in April when we come together to be inspired, to learn about Amnesty's work and to make decisions about the future.
The AGM is for all members of Amnesty International UK Section. If you're not a member but want to come to an AGM, join Amnesty as a member today.
What happens at the National Conference and AGM?
Inspiration
Our National Conference and AGM is an opportunity for members to come together to inspire and be inspired, to learn about our human rights work and campaigns, to share skills and experiences with other members and to hear and participate in talks and panel debates. It's a great way to meet others who share a commitment to human rights.
Deciding our future
The AGM is a chance to participate in our decision-making by debating and voting on a range of issues. All Amnesty UK Section members can attend and vote but voting rights differ:
Individual and family members – one vote per person
Groups (local/student/youth) – ten votes per group
Affiliate members – one vote for the first 5,000 members and a further vote for 10,000 members or part thereof, up to a maximum of ten votes. 
Not a member? Join Amnesty now to have your say.
What happened at 2017's AGM and National Conference?
Our most recent AGM and National Conference took place at the East Midlands Conference Centre in Nottingham, over the weekend of 8-9 April 2017. 
Members heard from national and international speakers, including campaigner and activist Brendan Cox, Laura Trevelyan (AIUK), Naureen Shah (AIUSA), Fiyaz Mughal (Tell Mama), Dr Stevie-Jade Hardy (Centre for Hate Studies, University of Leicester) and Razaq Ghazzawi (Foundation to Restore Equality and Education in Syria). 
Formal business included the reports from the Board and Director, receiving the annual accounts, appointing the auditor and making decisions on human rights issues and governance matters. We provide regular updates on how we're implementing those decisions. 
2017 AGM decisions 
2017 AGM Voting Breakdown 
Update on the implementation of AGM Decisions
Elections at the AGM
Our AGM elects an AGM Chair, the AGM Standing Orders Committee and the Members and Directors Appeals Committee. 
The AGM Chair, elected for one year, is responsible for making sure that the business of the AGM is conducted in an efficient and orderly way. It's the most important role at the AGM but they get lots of support from the Standing Orders Committee and our staff. The current AGM Chair is Alex Rhys.
The Standing Orders Committee helps the AGM Chair to run the meeting by advising on the AGM rules (known as Standing Orders). They also advise members on the wording of resolutions, ensure that resolutions meet the requirements of Standing Orders and allocate them for discussion in a "working party". The current members are Anne McFarlane, Sheila Banks and Melvin Coleman.
The Members and Directors Appeal Committee is responsible for considering any appeal made by either an individual or Director who has been expelled from the membership of Amnesty or from the Board. This is extremely rare but the Committee's decision is final. The current members are Maggie Towse , Barrie Hay and Reg Pyne. 
If you are interested in playing a vital role in our democracy by serving in one of these positions, or if you want to help at the AGM by becoming a working party chair or a teller, please contact the Nominations Committee - nomcom@amnesty.org.uk .
Questions? Get in touch
Advice on submitting a resolution and conduct of AGM business
Standing Orders Committee - soc@amnesty.org.uk 
Governance positions at the AGM
Nominations sub-Committee - nomcom@amnesty.org.uk 
     
General Queries
agm@amnesty.org.uk 
 
Decisions from recent AGMs