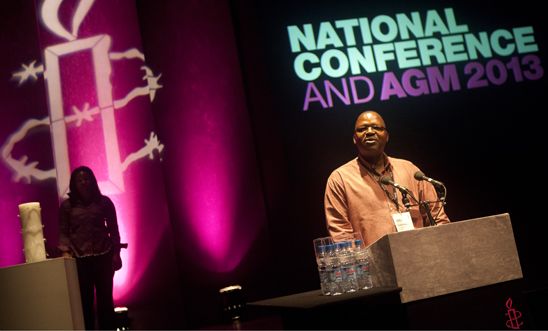 © Katura Jensen
Annual General Meeting
We were delighted to see you at this year's AGM, thank you so much to everyone who took part.
We welcomed over 170 members to our online platform, hosted voting, debates, resolutions sessions and of course the AGM reports. We also welcomed new Secretary General, Agnès Callamard, who answered some questions from the chair about her background and Amnesty's role in creating positive change globally.
It would not have been an AGM without debates and voting on resolutions. We learnt how to adapt and improve our use of technology platforms throughout this extraordinary year, and this year the AGM platform allowed members to be seen and heard when asking questions and contributing to the discussion. All resolutions were passed. You can see more details on the resolutions here. 
We hope to see you in person in 2022!
Shape how we work: 
We regularly have opportunities for volunteers to shape how we are run as an organisation and help to ensure that we are doing the best work we can to protect human rights. If you are interested in playing a vital role in our democracy by serving on the Standing Orders Committee, find out more here. 
 
You can also find the previous AGM decisions from 2017-2020 immediately below the 2021 update on AGM implementation.