Together we stand united with trans people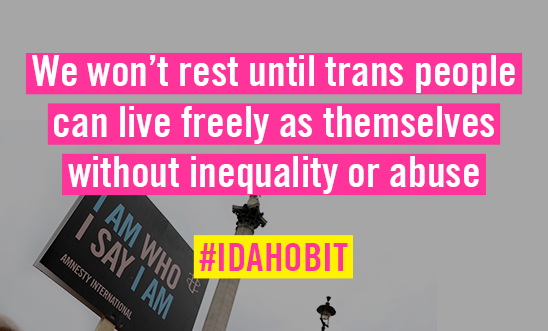 Amnesty International stands united with trans people and other human rights organisations calling for equality
Trans people often face extreme discrimination.
Right now we're seeing growing threats to their human rights in the UK and abroad. But the biggest human rights organisations are united by their side – we won't rest until trans people can live freely as themselves, without inequality or abuse.
To mark International Day Against Homophobia, Biphobia, Intersexphobia and Transphobia (IDAHOBIT), we've come together with Liberty and Human Rights Watch to highlight how dehumanising discussions and 'debates' are leading to human rights abuses.
We are united in sending a message that trans rights are human rights:
Human rights are universal and belong to everyone. Yet too often in the UK trans people are spoken about and treated as though their rights don't matter.

The toxic media coverage about trans people has recently spiked. At times of crisis and political change, marginalised groups are often singled out for abuse and hate. History has shown us time and time again the dangers of setting the rights of one marginalised group up for debate. But we know that our rights and freedoms are bound together.

What's more, this isn't an equal conversation or level playing field. Key voices are missing – trans and non-binary people, and in particular young trans people. They are so often spoken about, not listened to. As a society, we need to make space so they can be finally heard without having to defend who they are.

We need to do this because denying rights leads to dehumanisation.

This is already happening in Hungary, Russia and the US, where trans people are facing serious human rights abuses, and new and vicious attacks on their fundamental rights.

We cannot allow this to happen here. Today, as we mark the International Day Against Homophobia, Biphobia, Intersexphobia and Transphobia (IDAHOBIT), our collective of UK human rights organisations wants to remind people that trans rights are an indivisible part of human rights.