© Katura Jensen
Our 2014 AGM took place on 12 and 14 April at Heriot-Watt University in Edinburgh. Watch the film above to get a flavour of what went on.
Capturing our 2014 AGM
'There is so much work to do this year but I feel more certain than ever that our movement of ordinary people will come at it, united and fighting.'
Hannah Perry
Read Deputy Chair Hannah Perry's blog on the 2014 AGM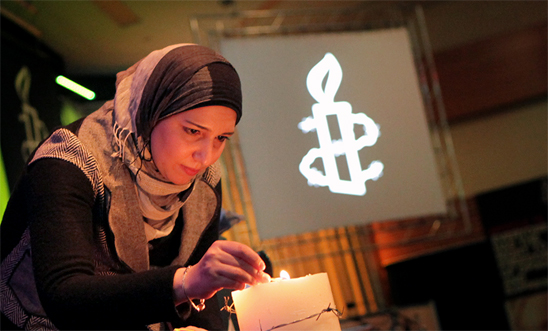 Decisions from this year's AGM
See resolutions from past AGMs.
What are our AGMs for?
Our Annual General Meeting (AGM) is the event where Amnesty members from around the UK come together for a weekend of learning, discussion, and decision-making. We're a membership-led organisation, so decisions made at the AGM are reflected in what we work on, and the way we work.
Find out more about what happens at our AGMs.
The AGM is your chance to
Share your skills, experience and interest in human rights with like-minded activists
Learn from others in the Amnesty community and develop your passion for human rights
Hear from inspiring speakers on pressing human rights issues
Raise issues that matter to
Shape Amnesty's future.