Why the UK must stop arms sales to Saudi Arabia
The UK is fuelling the deadly conflict in Yemen through reckless arms sales to the Saudi Arabia-led coalition – these sales break UK laws and the global Arms Trade Treaty it once championed.
In April 2016, on a visit to Yemen to collect evidence of human rights abuses, our research team discovered a UK-made cluster bomb, used in air strikes by the coalition.
At least 16 civilians, including nine children, have been maimed and two children killed by one form or other of cluster munitions.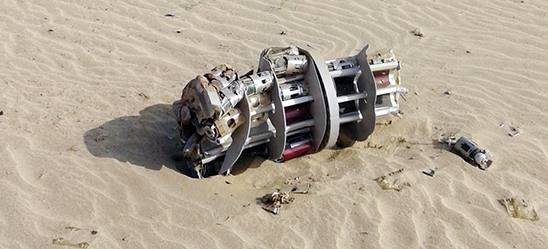 An unexploded, British-made cluster bomb found by a farmer in Hajjah, northern Yemen. © Amnesty International
Unexploded cluster bombs
Many more people are still at risk from thousands of unexploded cluster bombs left in their neighbourhoods. On 16 April 2016, in a village around 10km from the Saudi Arabian border, two brothers aged nine and twelve were herding goats in the valley nearby.
The nine-year-old boy found two unexploded cluster bombs and gave one to his brother.
'I found the bomb and I went and gave it to my brother so he can have one and I had one. He hit them against each other and they exploded and I found myself lying on the ground.'
He survived but his 12-year-old brother was killed on the spot, his abdomen torn open and his arm severed.
In another case, an eleven-year-old boy told us that he'd been playing in his village when a cluster bomb exploded – he lost three fingers and broke his jaw. His eight-year-old brother was killed.
Based on descriptions, these incidents did not involve British-made cluster bombs but they reiterate their dangers.
MPs misled over investigations
On 22 July 2016, the last day of parliament before their summer holidays, the UK government admitted that they had misled MPs six times over investigations into Saudi Arabia's conduct in Yemen.
After spending most of this year telling us that assessments had been conducted and it was confident that no breach of international law had occurred, it is now apparent no investigation has been done at all.  
What is a cluster bomb?
Cluster bombs are an illegal weapon, banned under international law since 2008.
We uncovered a British-made BL-755 – a particularly nasty model, which consists of a large bomb that opens mid-air to scatter 147 smaller explosive bomblets across a wide area.
The bomblets eject a stream of molten metal as they detonate, which is designed to pierce metal armour. After this, they explode into more than 2,000 fragments killing and maiming all in the vicinity.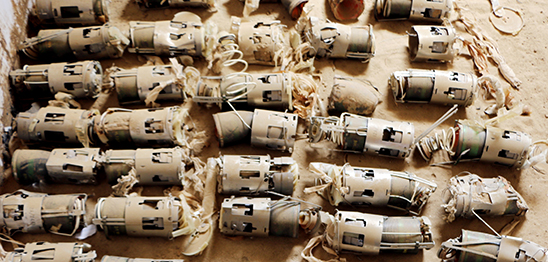 The bomblets of a British-made BL-755 cluster bomb, likely dropped by Saudi Arabia-led coalition forces. © Amnesty International
Even if they don't explode on impact, they become ticking time bombs for civilians on the ground, with hundreds of live, lethal devices left scattered across the drop zone. The bombs are known to be in the stockpiles of both Saudi Arabia and the United Arab Emirates.
This type of cluster bomb was originally manufactured in the UK in 1970/80's and likely sold to a member of the Saudi Arabia-led coalition some years ago. But regardless of when this was sold the UK has a responsibility, under the Convention on Cluster Munitions, to ensure these weapons are never used.
How many more people must die?
So far, the government has ignored our calls. When pressed on the matter, UK ministers have said that Saudi Arabia has provided it with 'assurances' of their proper use.
This is unacceptable. The Prime Minister must not ignore the deaths of civilians.
Along with almost 30,000 of you, we've been calling on the UK government to stop selling arms to the Saudi Arabia-led coalition carrying out illegal and indiscriminate airstrikes in Yemen.
Another 21,000 of you have demanded an urgent investigation into the use of cluster bombs and an immediate end to these weapons sales.
We delivered your petition to Downing Street on 7 June 2016, along with MPs from the four major political parties: Dr Tania Mathias, Conservative MP for Twickenham; Stephen Doughty, Labour MP for Cardiff South and Penarth; Alistair Carmichael, Liberal Democrat MP for Orkney and Shetland; Tasmina Ahmed-Sheikh, SNP MP for Ochil and South Perthshire; and Margaret Ferrier, SNP MP for Rutherglen and Hamilton West.
Congrats to @AmnestyUK - 21k signatures in 2 wks on arms sales to Saudi Arabia. pic.twitter.com/hrnv5AXYTJ

— Alistair Carmichael (@acarmichaelmp) June 7, 2016