War crimes in the Central African Republic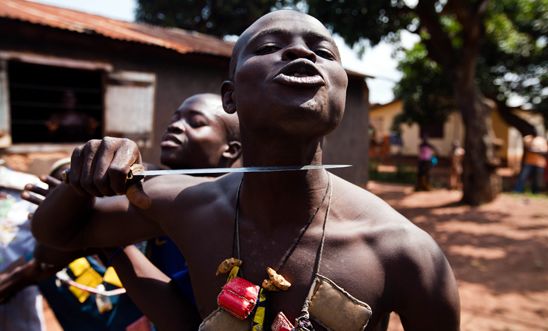 An Anti-balaka fighter shows what he would do to any Seleka fighter. Taken in Boy-Rabe neighborhood, Bangui, 14 December 2013 © Ivan Lieman/AFP/Getty Images
People in the Central African Republic are living in a human rights nightmare. We have recorded and verified proof of extensive war crimes and crimes against humanity during the period between December 2013 and May 2014.
During those six months, we have seen a nation terrorised by militia groups who are committing gross acts of inhumanity – including large-scale executions of civilians, widespread rape, the recruitment of children as soldiers, and even reports of cannibalism. Our research during this time is compiled in our report Time for Accountability.
Identifying suspected war criminals
The abuses are being committed by numerous parties. There are three groups in particular that appear to have openly committed atrocities in the last six months:
Anti-balaka militia, a mostly Christian group
Seleka mlitia, mainly Muslims
Soldiers from neighbouring Chad.
Through extensive research that we have verified and cross-checked, we have compiled a list of some of the individuals we suspect to have ordered or carried out atrocities in the Central African Republic in the last six months. The list includes former Presidents François Bozizé and Michel Djotodia alongside well-known leaders of armed groups. The sense of impunity goes right to the top.
Some of them are living freely in the country. Some of them are living freely elsewhere - in neighbouring countries like Chad or in France (the former colonial power in the Central African Republic). All of them are living with impunity, without consequence for alleged war crimes and crimes against humanity.
The countries where suspected war criminals are residing have a duty to investigate the allegations put against them. If there is evidence, those countries must prosecute or extradite the individuals, so that they may face justice.
Why we are naming and shaming suspected war criminals
We need to hold human rights abusers to account
If people abusing human rights are dealt with according to the national and international laws that govern the Central African Republic, there is a real chance to stop the ongoing sectarian violence. If they are not held to account, human rights abusers and war criminals will continue to commit terrorising acts of violence without fear.
A nation is living in fear, without protection
Perpetrators of war crimes - from mass executions to murdering aid workers and peacekeeping forces - are right now committing acts of barbarity without any repercussions whatsoever. Meanwhile, communities continue living in sheer terror.
Authorities too scared to act
Right now, the Central African Republic is under the rule of Transitional Authorities that stepped in to govern the coutnry in January this year. They told us that they are afraid to investigate some major cases of human rights abuses, for fear that it will cause further instability in an already volitile and lawless country.
The justice system is broken
Judges terrorised
People working in roles of law and order feel unable to bring about justice. They live in constant fear of what may happen to them should they challenge suspected perpetrators who are seen as too powerful and too fearless to confront.
From magistrates to lawyers, the risk that they will be targeted is too much for many to continue their jobs as they should, and facilitate a working justice system. One judge told us that he couldn't hold suspected war criminals to account as there was no protection for him, when countless suspected perpetrators remain at large. His fears are real - high profile magistrates have been murdered for speaking out about the situation in the country.
No functioning prisons
Ngaragba prison is the only jail left in the Central African Republic. In January this year, Anti-balaka fighters attacked the prison and killed four suspected Seleka inmates. All other prisoners escaped as a result of the attack.