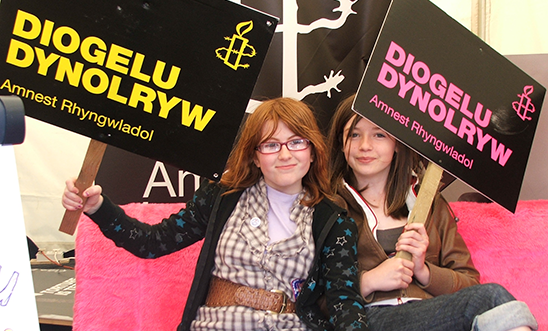 We work on regional, national and international human rights issues across the UK.
Get involved with Amnesty in your area
We have a network of activists across Wales. If you live in Wales and are looking to get more involved in human rights activism, we recommend you find an Amnesty local group near you.
At university? See if your university has a group or think about setting up a group at your uni
At school? Find out more about school groups
Adnoddau Cymraeg
Welsh-language resources
Rydym yn cynhyrchu amrywiaeth o adnoddau addysgol i gynorthwyo plant y cyfnod Sylfaen, myfyrwyr oed ysgol gynradd (Cyfnod Allweddol 2) a myfyrwyr oed ysgol uwchradd (Cyfnod Allweddol 3 a Chyfnod Allweddol 4) i ddeall hawliau dynol a gweithredu drostynt.
Mae ein holl adnoddau Cymraeg ar gael ar y dudalen Addysg Hawliau Dynol. Os oes gennych unrhyw sylwadau neu adborth, gallwch gysylltu â ni yn HRE@amnesty.org.uk
We produce a range of education resources to support Foundation phase, primary school age students (Key Stage 2) and secondary school age students (Key Stage 3 & Key Stage 4) to understand and take action for human rights.
You can find all of our Welsh language resources on the Human Rights Education page. If you have any comments or feedback you can contact us at HRE@amnesty.org.uk