USA: Gun violence is a human rights crisis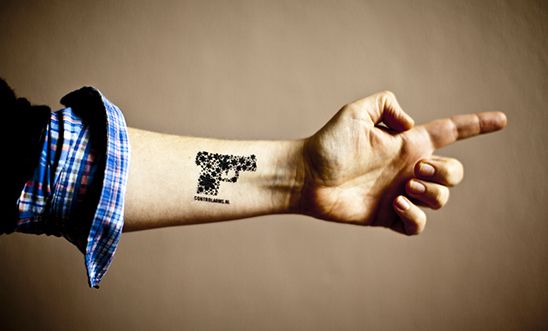 Despite global outrage over repeated mass shootings, campaigners' calls for gun law reforms in the USA have been blocked repeatedly. © Marieke Wijntjes / Amnesty International
We all have the right to live free from violence, discrimination and fear. But the US government is prioritising gun ownership over these basic human rights.
The USA has the highest rates of gun ownership in the world. A sense of entitlement to own a practically unlimited array of deadly weapons, without sufficient regulations on their sale, possession and use has superseded the need to protect the right to life. As a result, people are dying in homes, schools and on streets across the country.
In 2016, an average of 106 people died per day from firearm-related deaths - significantly more than in other industrialised countries.
Gun violence particularly affects communities of colour, where it's the leading cause of death for men and boys aged 15-34, who are 20 times more likely to be killed by a gun than their white counterparts.
Women facing domestic violence and children are also disproportionately affected.
Lack of gun regulation
Despite the huge number of guns in circulation and the huge number of people killed by guns each year, there is a shocking lack of federal regulations that could save thousands of lives.
All aspects of life have been compromised by the availability of guns because of the lack of proper safeguards.
The US lacks measures like a national registration scheme, and 30 states allow handguns to be owned without a licence or permit.
Lives lost from gun violence
The sheer volume of people killed or injured each year in the USA by gun violence is staggering.
In 2016, 38,658 people died by gun violence. 1,637 were children. Of these, 862 were homicides and 633 were suicides, and 104 were accidents.
Over 4 million children live in households with loaded and unlocked firearms, as well as being at risk of gun violence in their schools.
People suffering from domestic abuse, most of which are women, are also at high risk of gun violence. More than half of all women murdered in the USA are killed by current or former partners and most intimate partner homicides are committed with guns.
Real lives
"She was an angel on earth. It is heartbreaking that her life was taken and they weren't even shooting at us."
Naikeeia Holmes, who lost her 11-year-old daughter, Takiya, to gun violence in Chicago, Illinois.
Ronnie, a 33-year-old aspiring music producer, was shot in the head while sitting in a parked car on the West Side of Chicago on 26 January 2013. On a television talk show a few weeks earlier, he had explained that he was a former gang member who had been in and out of jail, but was now mentoring young rappers, trying to keep them away from gang life.
Jerome, 23, was shot and killed while using a payphone outside the Cabrini-Green public housing complex on 26 July 2000.
Three months earlier, on 27 April, his 15-year-old sister, LaToya, had been standing in the lobby of a Cabrini-Green public housing complex when she was shot and killed by a 13-year-old boy.
Five years before that, on 28 November 1995, 18-year-old Carlos was shot twice in the head by a classmate just blocks from their school, Jones Metropolitan High, in Chicago's South Loop.
And for the many gunshot survivors, the mental, physical, emotional, familial, and financial consequences of their injuries shape their lives forever.
The toll that gun violence exacts on victims, family members and the medical services is a public health crisis of astonishing proportion – with remarkably little government response.
What the US government needs to do
The daily toll of gun violence on people has garnered international attention recently. Yet, the government has failed to pass any meaningful federal legislation addressing the crisis.
US gun laws must be strengthened as a matter of urgency. Our latest report, In the Line of Fire, outlines multiple recommendations for state and federal governments to take forward, including:
comprehensive background checks
mandatory training for gun ownership
mandatory safe-storage laws
investment in community violence reduction and prevention programmes
a ban on semi-automatic assault rifles and other military-grade weapons