Migrant children and asylum seekers still denied healthcare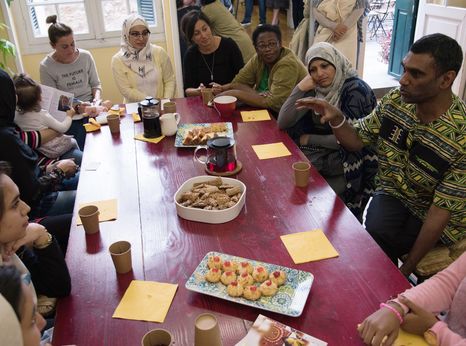 0
days left to take action
On 31 January the Greek government issued a new decision granting a 'provisional social security and health care number' to asylum seekers in Greece. This provisional health care number provides asylum seekers access to free public health care and to seek work while they wait for a decision on their claim. For those granted international protection, this temporary protection will become permanent while, in certain cases, those whose applications are rejected will have their access cut-off.
However, the system already presents challenges, in that it fails to address the situation of children of irregular migrants and excludes asylum-seekers who have not completed the registration of their asylum claims. Those who may have expressed the need for international protection, but have not completed a formal application, often as a result of delays, are left without access to health care or potential employment. Pending its implementation, the effectiveness and feasibility of the system also remains to be seen.
Even though this decision is a positive step, we would like to maintain the pressure and ensure it's being implemented, while we continue direct advocacy for the remaining calls.
Barriers in receiving treatment
In November 2019, a Pakistani man with cancer was unable to undergo a CT scan or begin chemotherapy in Athens, due to his inability to obtain a Social Security Number, otherwise known as an AMKA. He was eventually able to begin treatments thanks to an exception made by the hospital's administration, which allowed him to receive treatments free of charge. Amnesty International has been made aware of several cases in Athens and on the Aegean Islands, where people are facing similar barriers.
In September 2019, Amnesty spoke to the doctors of two asylum-seekers living with HIV, currently being treated in a major hospital in Athens. If the doctors were to discharge these individuals, they would not have access to their antiretroviral medicines, because they have not been able to get an AMKA. One of the two patients, N*, an HIV positive asylum-seeker from a Central Africa country, has been treated in the hospital's clinic since May 2019 for a complication from her illness. She is receiving antiretroviral therapy and other essential medication there.
N* has applied for asylum, but she has been refused an AMKA. Her doctors have tried to find her a place to live, without success, and are worried that when discharged N* will become homeless. They worry that once discharged, she will not have access to her antiretroviral or other medications, causing her condition to worsen.
Scope of the situation
Greece is one of the main recipients of asylum-seekers, refugees and migrants coming to Europe. Since 2015 the Greek asylum and welfare systems have been under constant strain, as migratory flows have increased, alongside the lingering effects of the economic crisis. While Greece deserves to be praised for its efforts, we must recognise the EU's policies' failures in providing meaningful support; asylum-seekers, refugees and migrants currently in Greece live in often abysmal conditions and, in the long term, have little to no access to the social system or integration paths.
With the increase in arrivals by sea in mid-2019, the population on the Aegean Islands has reached record numbers. Despite the new government's efforts to reduce arrivals and move people to the mainland, overcrowding and appalling conditions in the camps are still routine.
As far as access to healthcare is concerned, Greek law provides free access to medical and pharmaceutical services to members of "vulnerable social groups", including refugees, asylum-seekers and minors, regardless of their legal status. According to the same law, these individuals must have an AMKA to access free public healthcare. As of 2016, asylum-seekers and other members of "vulnerable groups" that do not meet the requirements are entitled to a Foreigner's Health Care Card ("K.Y.P.A"), granting access to free healthcare in the public system. However, the process to grant K.Y.P.A. has remained unused so far.
NGOs, like MSF, and doctors working within the public system have been doing their best to provide health care and to make up for the failures of the state, but they are not equipped to meet the scale of existing needs.
MSF has reported that the situations at their clinics in Lesvos, Samos and Athens have deteriorated. Between July and November 2019, their Day Care Centre in Athens experienced a 'large increase in the number of patients seeking care without AMKA – from 18 percent of patients in January to 43 percent in November'. The organisation's primary clinic is unable to provide long-term and specialised care.
Doctors, civil society, UNCHR and the Greek Ombudsperson have called on Greek authorities to address the situation on several occasions, with no real response. Recently, the EU Commissioner Vice-President for the 'Promoting our European way of life' also addressed the issue, expressing his support for finding a solution.
Positive Voice, Greek NGO focused on helping HIV patients, called on Greek authorities to grant access to antiretroviral medications to non-Greek individuals, noting that 'in the first ten months of 2019, 43 percent of new HIV diagnoses in Greece concerned refugees and migrants (204 people)' and that 'Infections Units are unable to provide antiretroviral treatment to foreigners who do not have an AMKA, thus endangering their health and lives'.
Downloads