UPDATED 19/02/20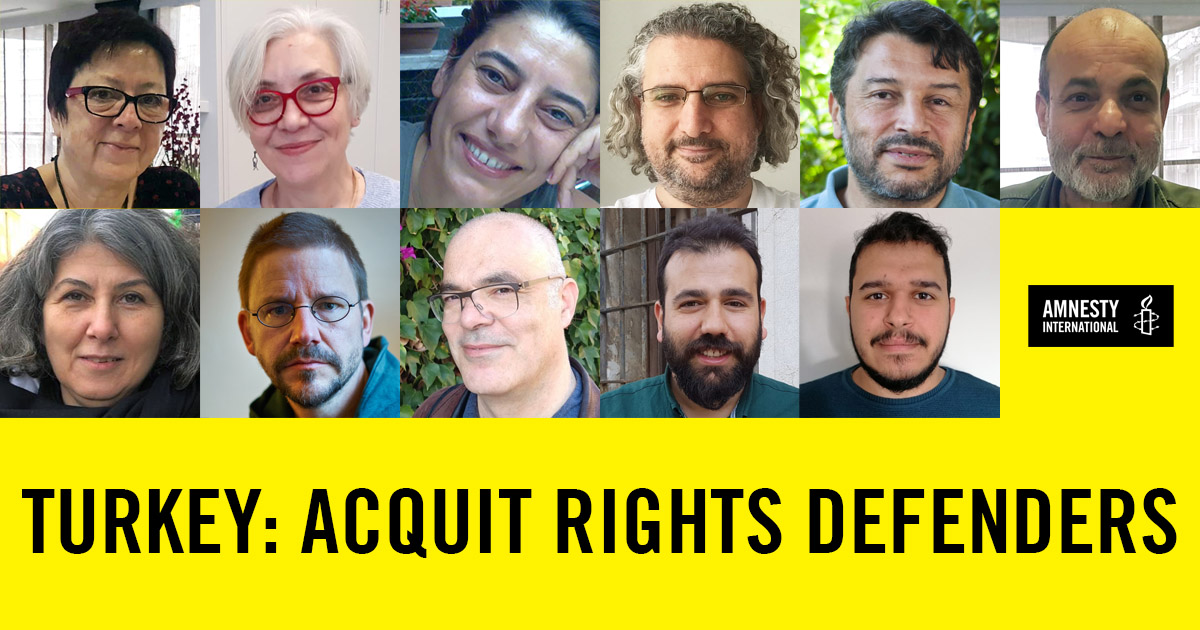 11 human rights defenders could be given jail terms in Turkey of up to 15 years. They were in court on 19 February to hear the verdict, but the hearing was postponed until 3 April.
The 11 includes the former chair, ex-director and several members of our own Amnesty Turkey, as well as other activists.
What have they done?
They have done nothing wrong. They stood up for human rights in Turkey. For this they each face absurd 'terrorism' charges without any credible evidence being given over the course of ten hearings.
Since their detention in 2017, more than two million people around the world – from Ai Wei Wei to Whoopi Goldberg – have spoken out for justice for the 11. Now as this unfair trial is coming to a close, we are asking you spread the word about this ridiculous trial so that our friends and colleagues are not forgotten, and the Turkish government knows we are watching.
What happened?
Taner Kılıç, then chair of Amnesty Turkey, was arrested on 6 June 2017. Three days later he was jailed on charges of being a member of what the government call the 'Fethullah Gülen Terrorist Organisation'. Without any evidence, the authorities claimed that Taner had downloaded a messaging app the government says was used by the group to communicate. He is not a member of this organisation and never downloaded the app in question.
Then on 5 July İdil Esser – the then director of Amnesty Turkey – and nine other human rights defenders were arrested at a hotel where they were on a workshop for well-being and digital security. The authorities accused them of taking part in a secret meeting. Eight of the ten defenders were jailed on the basis of these allegations.
İdil Eser, Günal Kurşun, Özlem Dalkıran, Veli Acu, Ali Gharavi, Peter Steudtner, Nalan Erkem and İlknur Üstün spent 99 days in pre-trial detention before they were released on bail in October 2017. Taner spent 432 days in jail before being released on bail in November 2019.
At the most recent hearing in November 2019 these charges were requested by the prosecution:
Taner for 'membership of a terrorist organisation'
İdil, Özlem, Günal, Veli and Nejat Taştan for 'knowingly and willingly assisting a terrorist organisation'
Acquittal for Nalan, İlknur, Şeyhmus, Ali and Peter
They could all face up to 15 year prison sentences.
What will happen next?
The two cases have now been merged after the court alleged that Taner directed the 'secret meeting' of the ten others, even though he had been in prison at the time it took place. The case has since been dubbed the 'Büyükada trial', after the island where the ten were arrested.
The final hearing was supposed to conclude on 19 February 2020, but was adjourned to 3 April.
The state prosecution failed to prove its case against the 11 human rights defenders. For justice to be done, all 11 must be acquitted. They should never have been investigated, let alone imprisoned or prosecuted. 
The court may decide to ignore the prosecutor's request for convictions and acquit all. Equally, the prosecutor's request for five of the defenders to be acquitted is also no guarantee they will be acquitted. All 11 remain at risk of conviction and imprisonment. 
If any of the 11 human rights defenders are convicted, even if they don't go back to prison because of the time spent in pre-trial detention, this would be a huge blow to the individuals, and to Turkish civil society.
Four of the 11 defenders are lawyers. If convicted, they would lose their licence and would no longer be able to practice law.
Whatever the verdict, it is likely to be appealed and risks will continue until all of them are acquitted by the appeal court, which means this could continue for years to come, adding further stress and uncertainty to these brave people's lives.
Learn more about the 11