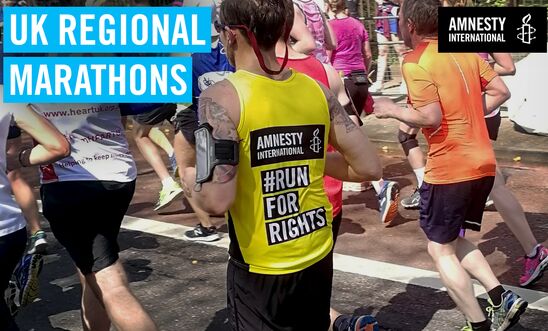 We are delighted to have access to places in a number of marathons through our partnership with Sport for Charity!
This includes (but is not limited to) the below. You can check also search for events in your area via our Local Running Events webpage here. 
Manchester Marathon - 3rd April 2022 - Sign up now!
The Therme Manchester Marathon is one of the UK's premier running events, famous for its fast, flat and friendly route. You can find out more about the route here (including start and finish locations).
Edinburgh Marathon - 29th May 2022 - Sign up now!
Fast and flat, this course was voted the fastest marathon in the UK by Runners World, ideal if it's your first marathon or you are looking for a PB. On top of that you explore the mighty city of Edinburgh as you run with University Grounds, Edinburgh Castle and the Gothic Rocket en route!
Wales Marathon - 3rd July 2022 - Sign up now!
Discover the only fully closed road marathon in Wales. Set in the beautiful Pembrokeshire Coast National Park it's a stunning event culminating in our famous red carpet finish.
Chester Marathon - 2nd October 2022 - Sign up now!
The route is on closed roads and you will run past all Chester's iconic landmarks (Roman Walls, Cathedral, Medieval Rows,  Eastgate Clock, Amphitheatre) before heading out to the stunning Cheshire countryside and villages. After joining the marathon runners at Aldford you begin the return journey, coming into Chester alongside the River Dee for a unforgettable finish at the Racecourse. The support in the villages and communities along the course is one of the many highlights of the race.
Yorkshire Marathon - 16th October 2022 - Sign up now!
The Yorkshire Marathon is the White Rose County's sporting crown! Every year, thousands of runners of all abilities take to its truly breathtaking course. But you'll never be far from the locals who will be out in force to cheer you along. As you head along University Road to the finish, remember; it's tradition to "do the Y" as you cross the line. Yorkshire, Yorkshire, Yorkshire! Whether you're aiming to smash your PB or just looking to cross the finish line, the Yorkshire Marathon is the perfect experience for beginners and experienced athletes alike.
Already got your own place?
If you've already acquired a place in a marathon event, join our team as an Own Place runner. There's no minimum fundraising target, just raise as much as you can.
Signed up to run? Get fundraising!
      Create a JustGiving page                      
   

How we'll support you
As a member of our team you'll receive:
A personalised running vest or T-shirt 
A fundraising pack filled with advice and ideas
One to one fundraising and training support
Fundraising and event materials like collecting tins, posters, badges etc
Regular updates on the event and on our human rights successes
An experienced and dedicated Community and Events Fundraising team with loads of advice and support to offer
Get in touch
If you have any questions or queries, contact our Community and Events Fundraising Team who will be able to provide you with further information. We will be more than happy to assist.
Please also note if you'd rather do your own Virtual Event at a time, pace and place that suits you, check out our Virtual Fundraising Challenge page.
Email: team@amnesty.org.uk
Phone: 020 7033 1646