Turkey's crackdown on human rights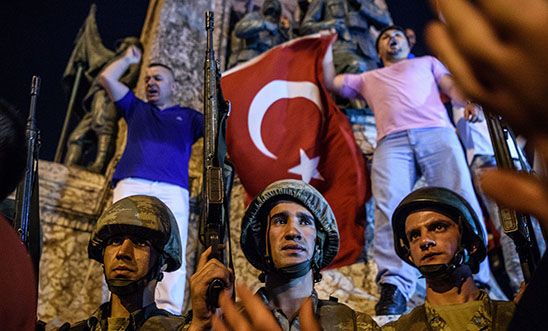 Turkish solders stay at Taksim square as people react in Istanbul on July 16, 2016. © OZAN KOSE/AFP/Getty Images
On 15 July 2016, a faction within Turkey's military attempted to overthrow the government. The coup failed and in the following days, weeks and months the Turkish government embarked on a crackdown of exceptional proportions, targeting people it accuses of being linked to Fethullah Gülen – a Turkish cleric in exile in the US, who the government accuse of masterminding the coup.
The Turkish president declared a three-month state of emergency and suspension of the European Convention on Human Rights (ECHR) for the duration – allowing him to bypass parliament when creating new laws or restricting freedoms and rights. President Erdoğan refused to rule out the use of the death penalty.
Tortured, raped and starved
More than 10,000 people have been detained since the attempted coup. We have evidence that many of those people are being subjected to torture, beatings, rape and sexual abuse.
We spoke to lawyers, doctors and detention facility staff who said some detainees were being held in unofficial locations such as sports centres and even a stable. Some detainees, including at least three judges, were held in the corridors of courthouses.
Police have been holding detainees in stress positions, denying them food, water and medical treatment, verbally abusing them and subjecting them to beatings and torture, including rape and sexual assault.
Two lawyers in Ankara told us that detainees said they witnessed senior military officers in detention being raped with a truncheon or finger by police officers.
Reports of torture in Turkey following the attempted coup says @GaurivanGulik from @amnestyintl #VictoriaLIVE https://t.co/hs1M9ZCpSJ

— Victoria Derbyshire (@VictoriaLIVE) July 26, 2016
Journalists arrested
Up to 70,000 people from the army, education sector, legal sector and civil service have been suspended or dismissed from their jobs.
The scale of these sackings suggests a country-wide witch-hunt.
The Turkish authorities also targeted media outlets and journalists, continuing their crackdown on freedom of expression. More than 20 news websites have been blocked, 42 journalists have arrest warrants out against them, and 25 media outlets have had their licenses revoked.
What we're calling for
Despite chilling images and videos of torture that have been widely broadcast across the country, the government has so far remained silent on the abuse.
Human rights abuses during the coup attempt must be investigated and their perpetrators brought to justice. But the investigation cannot be used as an excuse to crackdown on human rights. 
We're urging the president and Turkish authorities to condemn torture and allow independent human rights monitors access to detention facilities. All detainees must have regular access to lawyers and family members.