Trans Day of Remembrance 2019
Trans equality flag
We must never forget
You might wonder why it's necessary to mark Trans Day of Remembrance (TDOR) every year.
Every year hundreds of trans people are paying for the right to merely exist with their lives.
Transgender Day of Remembrance was originally started in 1999 by trans activist Gwendolyn Ann Smith, to honour Rita Hester who was killed the year before.
It had occurred to Gwendolyn (managing editor of genderfork.com) how similar Rita's case was to the killing of another friend Chanelle Pickett three years earlier. Both were women of colour. Both were last seen alive at the local nightclub in Boston. And both were in danger of being forgotten.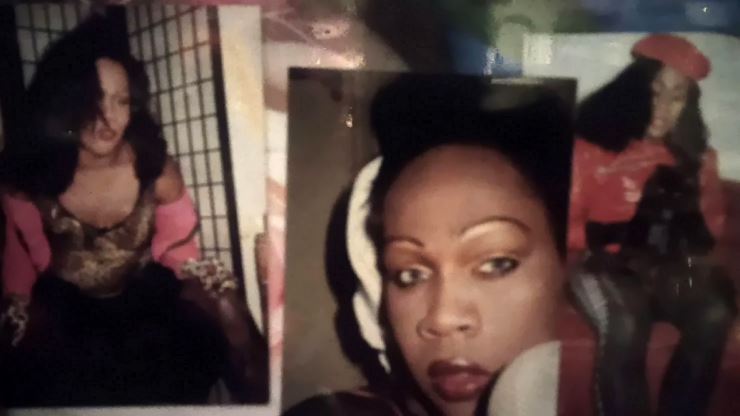 Rita Hester © Diane Hester
There are so many trans people killed each year as a result of trans hate and violence that Trans Respect publishes a list of (known) trans people who have been killed. Since last year there have been 331. Although there's likely to be many more.
How aware are you?
As is often the case, the most marginalised are the worst affected. Those from poorer backgrounds, undocumented or trans people of colour. We believe that on TDOR we have a duty not only to remember those we have lost, but also stand together with those who are fighting to have their basic rights respected and upheld.
If you're not trans and you think you don't know anyone trans, then think again. It is estimated there are approximately 200,000-500,000 trans people in the UK. Contrary to what the media will have you believe, you can't always tell from someone's appearance what their gender identity is.
You might also think that in the UK we're pretty good at being inclusive, tolerant and aware. Not necessarily the case. Stonewall found that 41% of trans men and women said they had experienced a hate crime or incident because of their gender identity - in the last 12 months. They also found that 25% of trans people had experienced homelessness at some point in their lives. A national LGBT survey found 67% of trans people have avoided being open about their gender identity for fear of a negative reaction from others.
If this isn't a case to make ourselves more aware and educated, then what is?
What we can do together
At Amnesty we are not only fighting for trans rights in the UK – for e.g. the right to self-identify one's gender - but also around the world. Last year activists in Kiev, Ukraine were attacked with pepper spray by dozens of far-right protesters, when they marched to mark TDOR. About 30 people were taking part in the demonstration in the Ukraine capital, holding rainbow flags and banners with slogans including "Transphobia must be stopped" and "If you stay silent, they will come after you too".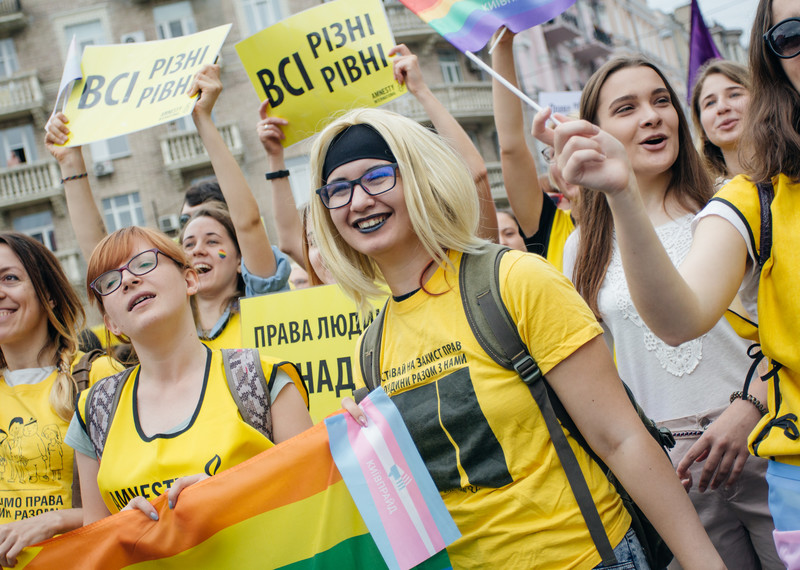 Kiev Pride, 2018
The far-right protesters lit smoke bombs and threw them into the crowd. The police were there. They did nothing. Several minutes later, a dozen counter-protesters aggressively approached the rally and positioned themselves around the transgender rights activists. Following this, the police effectively stopped the peaceful assembly by ushering participants inside the metro station. The counter-protesters then took their place in front of the station, unfurled their banners and flags, and made transphobic speeches. The police did not make any visible effort to intervene and allowed the far-right protesters to hold their rally on the same spot where trans rights activists were forced to leave.
This year, activists are again planning to hold a march on 23 November to mark Transgender Day of Remembrance. There is a serious risk of new attacks and the police must ensure people can safely exercise their rights to freedom of peaceful assembly and expression without discrimination.
In remembrance of those trans people who have lost their lives fighting for visibility and to join activists in the ongoing fight for Trans rights and the wider LGBTI community at home, please join Amnesty's rainbow network.