Trade Unions and governance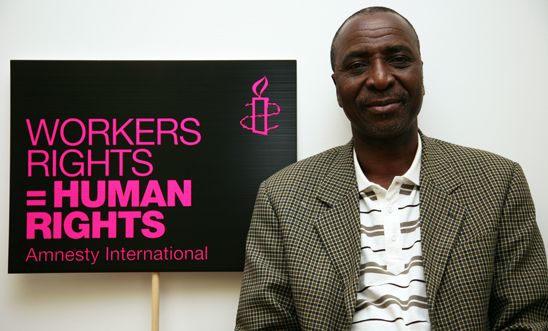 Lovemore Matombo , President of the Zimbabwe Congress of Trade Unions © Amnesty International / Reuben Steains
Our Trade Union Network started over three decades ago. Within 10 years half of all UK Trade Unionists were affiliates. Now, most UK-based Trade Unions affiliated to the Trade Union Congress are also affiliate members of Amnesty UK.
Large numbers of local branches and smaller numbers of regional branches and trades councils are also in affiliated membership. In fact, they are the largest group of affiliate members.
Working together in this way is powerful. In the over 30 years that we have been working together, solidarity from our network and the labour movement around the world has contributed to early releases for Iranian bus union leaders, freedom for Burmese labour activist Su Su Nway and more security for Zimbabwe's agricultural workers. 
Who can be an Affiliate?
Our Articles of Association define affiliated members as:
'Organisations based in the UK which are not political parties, solidarity groups or single interest country groups and which have been admitted as Affiliate Members by the Board'
This means that most organisations can become affiliates, provided that they support our aims. We have placed restrictions on the types of organisations that can affiliate in order to ensure that we maintain our political neutrality, and to avoid distortions of our work by single-country groups.
The number of votes an affiliate member organisation has at the Annual General Meeting is proportional to its size. It has one vote for the first 5,000 members and a further one vote for each further 10,000 members or part thereof, up to a maximum of 10 votes.
The Trade Union Network Committee
Our Trade Union Network Committee works with our trade union campaigner to shape and develop campaigning with the trade unions at both national and local branch levels.
Each affiliated national union can send one representative to the Trade Union Network Committee
The Network
AMICUS Gordon Davies
AMICUS Harriet Eisner
Community Tom Hedley, Chair
Connect Heather Phillips
CSP John Pestle, Vice-Chair
CSP Warren Glover
NGSU Rob Goldspink
NIPSA Amanda Allaway
NUJ Mindy Ran
NUJ Tim Lezard
PCS Alan Maloney
PCS Victoria Steeples
TSSA Dave Barnes
TSSA Shavaugn Halil
UCU Paul Bennett
UNISON Mairin Power
UNISON Helen Jenner