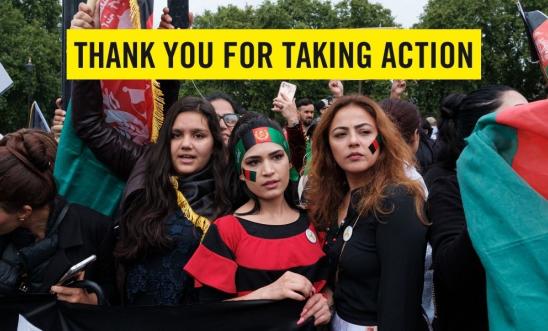 Thank you to over 32,300 of you who joined us in demanding that the UK government takes immediate action and safeguards the rights of women and girls in Afghanistan. The sheer volume of your response has been incredible.
On 12 September, we were joined by Amnesty UK's Afghanistan country co-ordinator, Nigina Istanakzai-Zarifi, and Afghan human rights defenders, Maryam Rahmani and Horia Mosadiq, and handed our petition to the UK government.
Our call to the UK government is clear; they must take action by:
•    Consulting and listening to women-led organisations in Afghanistan
•    Supporting Afghan activists who are protecting the rights of women & girls
•    Ensuring that respecting women's rights is non-negotiable with the Taliban
•    Providing safe passage for Afghan women & girls seeking asylum
What is happening in Afghanistan?
On 15 August, we marked the second anniversary since Taliban seized power again in Afghanistan and the rights of women and girls in the country disappeared almost overnight.
Afghan women had achieved significant progress over the last 20 years in the face of instability and conflict. Now, almost every aspect of women & girls' lives are under siege by restrictions and bans.
If you are a girl or woman in Afghanistan right now:
You are banned from attending school and universities
You are not allowed to travel over 72 km or access healthcare without a male "chaperone"
You are banned from working for NGOs or wearing colourful clothes
You are banned from playing sports or going to a park
Read more information about the history of women's rights in Afghanistan on our dedicated information page.
What next?
We will continue to monitor the situation and carry out research about developments in the country.
All new information about Afghanistan will appear on its dedicated hub page.