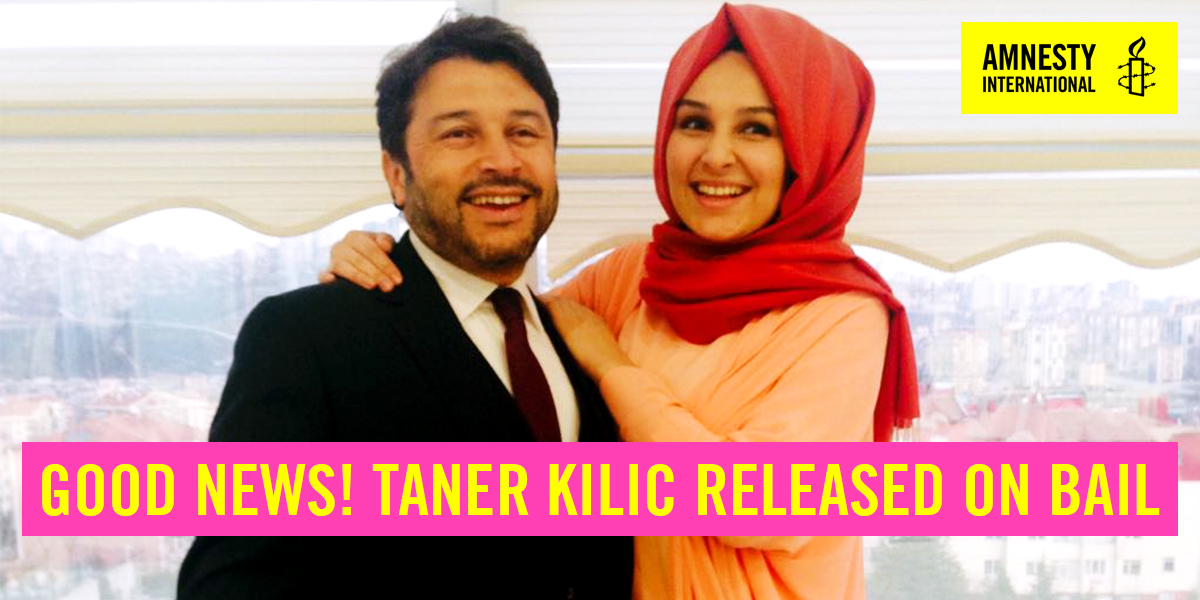 Taner Kılıç, the Honorary Chair of Amnesty Turkey, was released from jail today after 432 days in prison.
The court in Istanbul conditionally released him on bail – he is still charged with "membership of a terrorist organisation".
Millions of people worldwide have taken action on this case, which has no doubt pressured the authorities, helping to secure Taner's release.
Kumi Naidoo, Amnesty International's new Secretary General said:
"We are overjoyed at this news. It has taken us more than a year of campaigning and struggle to get here, but it appears that Taner will finally be freed. Whilst we rejoice at this decision, our celebrations will only truly begin when he is safely back at home in the arms of his wife and daughters.

"But beneath the smiles of joy and relief there will be sorrow, anger and a steely determination. Sorrow for all the things Taner has missed during his cruel incarceration. Anger that the baseless charges against him and the Istanbul 10 have not been dropped. And determination to continue our fight for human rights in Turkey and for the release of all other human rights defenders who have been unjustly jailed in the vicious crackdown.

"Today we take a moment to celebrate, but tomorrow our struggle will continue, re-energized by the example set by Taner himself - a man who knows the importance of human rights and is willing to dedicate his life to defending them."
Taner Kılıç and the Istanbul 10
Taner was arrested on 6 June last year and sent to jail three days later, where he has languished until today.
Ten other activists known as "The Istanbul 10", including Amnesty Turkey's Director İdil Eser, were locked up a month later. Eight of them were held for almost four months before being released on bail at their first hearing in October.
They all face the same baseless charge – "membership of a terrorist organisation" – a ridiculous claim made time and time again by the Turkish government to justify its attempt to silence human rights defenders.
Post-coup crackdown
Since the attempted coup of July 2016, 150,000 people have accused of dealings with the "Fethullah Terrorist Organisation", which the Turkish government claims to be behind the rebellion.
Some 50,000 people are currently jailed, including at least 100 journalists – the highest number of any country in the world. What's more, over 100,000 public sector workers, including a quarter of the judiciary and hundreds of academics, have been arbitrarily dismissed.
The fight continues
Today we take a brief moment to celebrate, but tomorrow we will continue our struggle to have all charges dropped against Taner, the Istanbul 10, and all other innocent victims wrongfully caught up in this vicious crackdown.
Thank you for your support so far. We hope you will continue to stand with us.