Slick PR can't disguise Shell's devastating oil pollution in Nigeria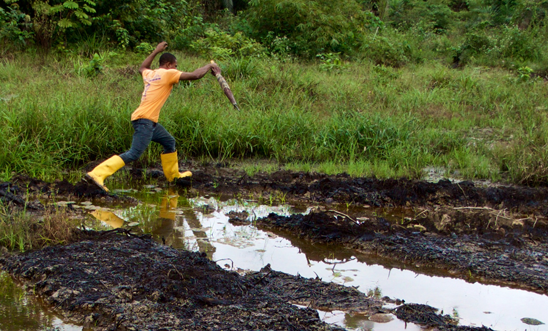 © Mike Uwemedimo/Amnesty International
Shell makes billions of dollars from selling oil and gas every year, and spends a fair bit of it on glossy marketing – including a project called #makethefuture, which asks young people for bright ideas to change the world.
But no amount of shiny PR can hide the sticky truth about Shell's ongoing pollution in southern Nigeria's oil-rich Niger Delta.
Home to 31 million people, the Niger Delta is one of the 10 most important wetland and coastal marine ecosystems in the world. Shell first started pumping oil there in 1958, and now runs around 50 oil fields and a 5,000 km pipeline network in the delta. And every year more more oil from Shell's broken pipelines and wells seeps into the water and soil.
Despite being a wealthy multinational company, Shell still hasn't come up with any bright ideas for how to stop this happening - or how to clean up the environment properly afterwards.
Tweet Shell - tell them to clean up the delta
Shell's dirty past
'Everything just died like that. [It] destroyed all the aquatic life in the stream where we used to fetch water - our farmlands, every living thing there.'
Barine Ateni, a farmer from Kegbara Dere (known as K Dere) 
K Dere village is a tiny dot on the map of Africa's largest river delta. There was an oil spill in K Dere in 1970, when Barine was just a baby. Shell claims to have cleaned up the site twice. But when we visited in August this year we found that the soil around Bomu Well 11 is still encrusted with oil, 45 years since it blew out.
Just down the road is Shell's Bomu Manifold, a junction of several pipelines leading to the coast. It is surrounded by a fence and guarded by the military. When it blew out in 2009, the resulting fire burned for 36 hours. Shell claims to have cleaned up that spill too – but our new research shows that this just isn't true.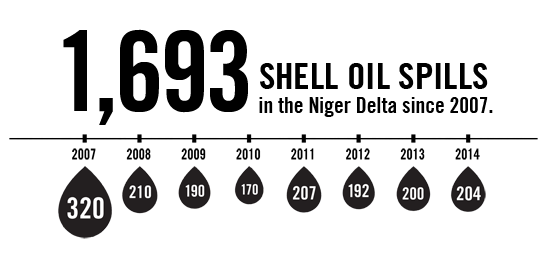 Half-hearted clean-ups
According to Nigerian law, oil operators have to start cleaning up all oil spills within 24 hours. But two years after the 2009 spill near K Dere, the United Nations Environment Programme (UNEP) found pollution many times above the government's safety limits.  
When our researchers visited K Dere this August, four years after the most recent spill, we saw soil soaked with crude oil outside the Bomu Manifold. Water with an oily sheen was also running down the hill into a swamp called Barabeedom, where many villagers like Barine have their farms and fishponds.  
 'We are sad and angry, and we have been made poor,' says Barine. It's easy to see why. Shell's toxic legacy still lingers in her village, its half-hearted clean ups having changed absolutely nothing. 
It's a pretty tragic track record for a company seemingly so ambitious to 'make the future'.
Tweet Shell - tell them to clean up the delta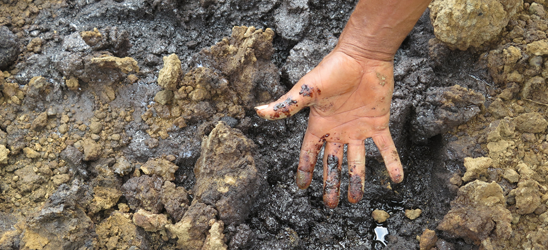 Contaminated land surrounds the Bomu Manifold at K. Dere years after spills have occured. © Amnesty International 1 Aug 2015
Empty promises 
'When Shell came to our community, they promised that if they find oil they'll transform our community'
Emadee Roberts Kpai, K Dere resident
While the oil wells proved to be full, Shell's promises proved empty. The company often boasts that it creates jobs in the areas where it works. But in the Niger Delta, oil pollution has destroyed the livelihoods of tens of thousands of people. While Shell's executives and shareholders have made a fortune from the delta, the communities that live there have been driven deeper into poverty.
Barine and her neighbours talk of explosions and fires, people injured, of oil-filled drinking wells and fish dead in the river. Instead of enriching people, oil has poisoned their lives for over 50 years now.
Even today, hundreds of new spills happen every year. Shell's own figures say 55,809,000 litres of oil have been spilled since 2007 alone. Our research shows that this is a massive underestimate.
Tell Shell to clean up the delta
It is very hard for the delta communities to take Shell to court in Nigeria. An isolated case is that of Bodo, a delta town where the entire community sued Shell in a UK court and won a landmark £55 million in compensation in January this year. But while Bodo has been financially compensated, an environmental clean-up of the land is still a distant dream.
Our new research clearly shows that four oil spill sites that Shell has publicly claimed to have cleaned up are still contaminated today.
'We had high hopes. Instead we got nothing. If I had money, I'd sue Shell for lying to us.'
Emadee Roberts Kpai
Shell says most oil pollution is caused by sabotage and theft, even in cases when our research clearly shows that its own equipment has been to blame. It has also massively underestimated the volume of oil spilled.
How can any government anywhere possibly trust Shell with future oil drilling, when it still isn't taking responsibility for cleaning up the Niger Delta? We have an idea for how Shell can truly #makethefuture - start by cleaning up the damage it has wreaked on the environment and lives of the people living in the delta.
Tweet Shell and ask them to clean up the Niger Delta
 
Tweet
Come on @Shell, time to #makethefuture and clean up the Niger Delta, now
Tweet
It's time to #makethefuture by cleaning up the Niger Delta, @Shell
Tweet
Come on @Shell, here's how to #makethefuture - clean up the Niger Delta, now